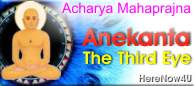 The meaning of syaadvad is to accept possibilities. It is surprising that Indian philosophers have always understood syaadvad as the discussion of the doubtful, of the uncertain.
But contemporary scientists have named syaadvad as the discussion of possibilities. This is indeed the right meaning. It lends a new perspective.
Syaadvad is anekantavad and is the doctrine of possibilities. It is a perspective that accepts possibilities. The basis of this acceptance is: In the gross world on the basis of gross facts, decisions are taken. The question that arises is: is our world just as much as meets the eye? No! The world of the subtle consciousness is much larger than the world of the gross. The subtle world of manifested modes is far larger than the gross world of manifested modes. The manifested modes are few, those unmanifested are many more. The world of future possibilities is very large. They cannot be forgotten.
The one who bases his decisions on all these possibilities makes the right decision. The decision taken on the basis of the present should be clear that it is taken on the basis of the gross manifestations of the present and with any change in circumstances/mode, the decision will also change. This way practical matters are not disturbed but on the contrary gain in efficiency.
There is a man in service. Today he may be honest, tomorrow he may cheat. Today he may cheat, tomorrow he may become honest. Today the one whom you trust may turn untrustworthy tomorrow. Today the one whom you do not trust may turn trustworthy tomorrow. We cannot function considering the present mode as the eternal or by understanding the finite as the infinite. By breaking the rule of relativity and replacing it with independence, no decision can be taken. All our decisions should be taken at a practical level on the basis of anekanta.