Page 50+51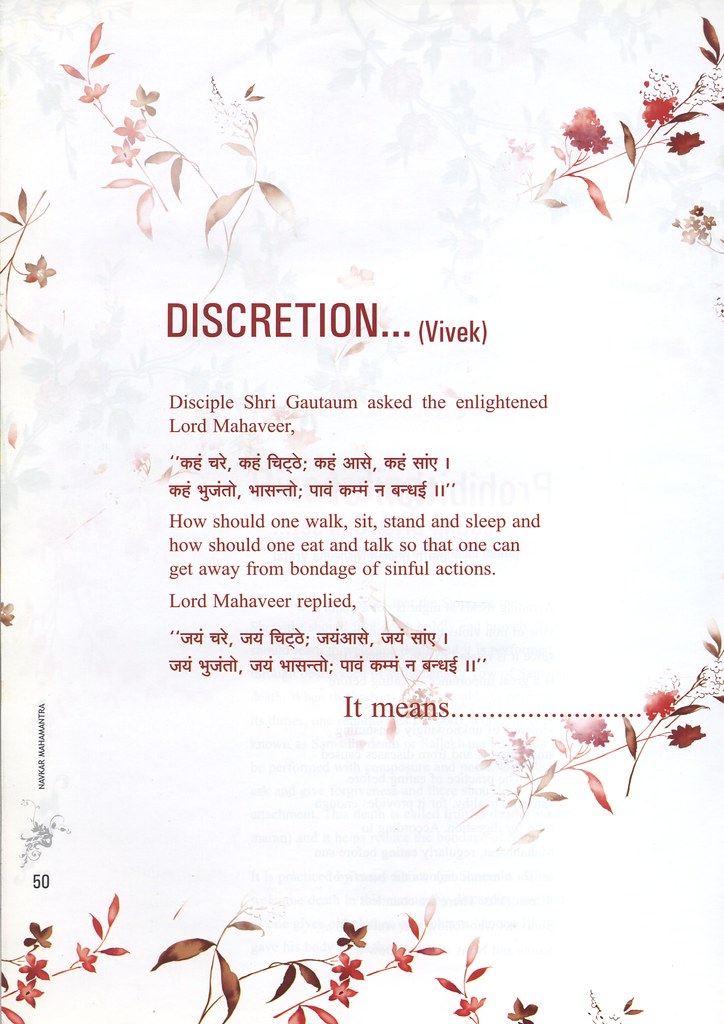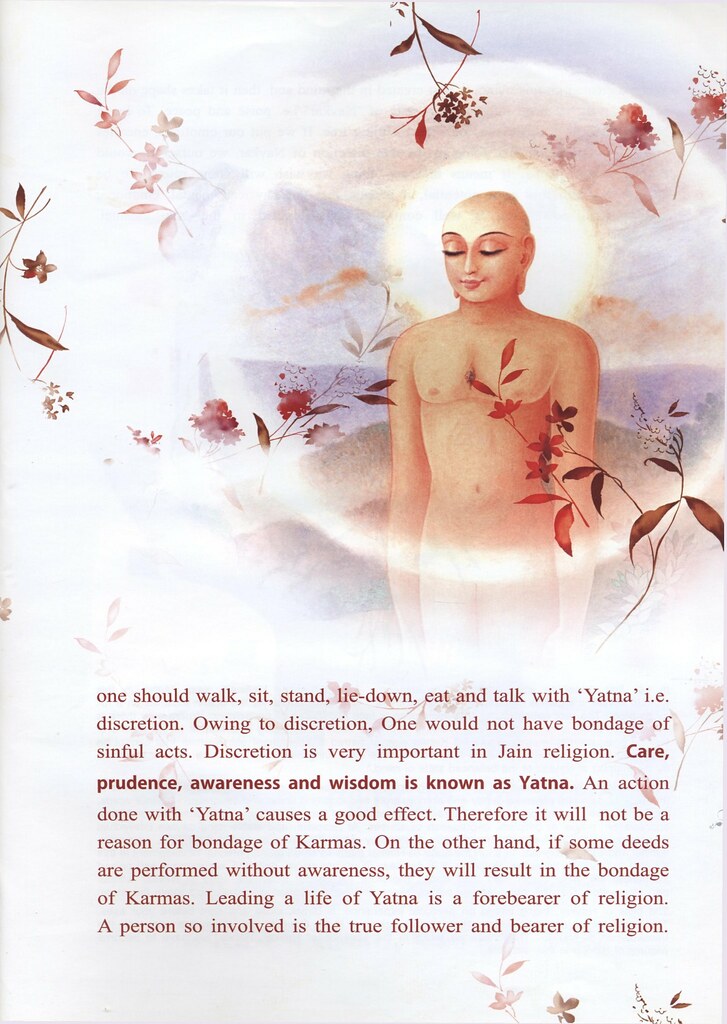 Text:
Disciple Shri Gautaum asked the enlightened Lord Mahaveer:

How should one walk, sit, stand and sleep and how should one eat and talk so that one can get away from bondage of sinful actions.
Lord Mahaveer replied,



It means......
one should walk, sit, stand, lie-down, eat and talk with 'Yatna' i.e. discretion. Owing to discretion, One would not have bondage of sinful acts. Discretion is very important in Jain religion. Care, prudence, awareness and wisdom is known as Yatna. An action done with 'Yatna' causes a good effect. Therefore it will not be a reason for bondage of Karmas. On the other hand, if some deeds are performed without awareness, they will result in the bondage of Karmas. Leading a life of Yatna is a forebearer of religion. A person so involved is the true follower and bearer of religion.

What is created on this planet is first created in the mind and then it takes shape on the earth. A well balanced mind is in a state of 'Navkar' i.e. poise and peace. To be in Navkar is to be Kalpavriksha or wish fulfilling tree. If we put our emotions, energies and style of thinking and doing in the one direction of Navkar, we ourselves would become Kalpavriksha. It means that any thing we wish will come round. To be empowered with this great potential, it is vital that our physical, mental, emotional and spiritual power too is well controlled and directed in the very channel.

In her first discourse after attaining omniscience tirthankar Mallinath said, "Although this word in infinite, it expands by passions like attachment and hatred. As the ocean expands on a fun moon night. The root cause of the 'ugly expansion is lack of 'Navkar' or equanimity'. Where-ever thee is equanimity, there is no more worldly cycles if birth and dealth. Any being who bathes in the waters of Navkar & equanimity washes away his Karma sins of hatred & attachment etc. Karmas that cannot SH destroyed even by extreme penance in Million of lives by a living being can be freed in a few moments by the support of Navkar or the balanced state of mind."

The essence of Navkar Mantra is to remain equanimous and free from passions like attachments hatred in the face of pain and pleasure, amity and enmity, profit and loss and union and separation. In other words, Navkar resides in a person, whose mind remains peaceful and balanced whether confronted with eulogies, appreciation, praise or criticism, deprecation or abuses. At peaceful and stable mind causes intellectual development. We don't remain intellectually dwarfs any more. This also causes our religious, economic, familial and social progress. In short the state of Navkar leads to an all round personal development in this life and to salvation hereafter. However, it is not easy to remain stable, peaceful, equanimous and poised throughout life. It is easier said than done. Therefore we cannot attain the state of Navkar without persistent effort. Despite many failures perseverance and constant effort will finally help attain this state.

The bliss of Navkar, being based on personal experience, is direct, close and right before your eyes. The three jewels of Right Vision, Right knowledge and Right Conduct are achievable only with the benevolence of Navkar. They have no effect in the absence of Navkar, Hence, we have to become pilgrims of Navkar in this very life.
Page 52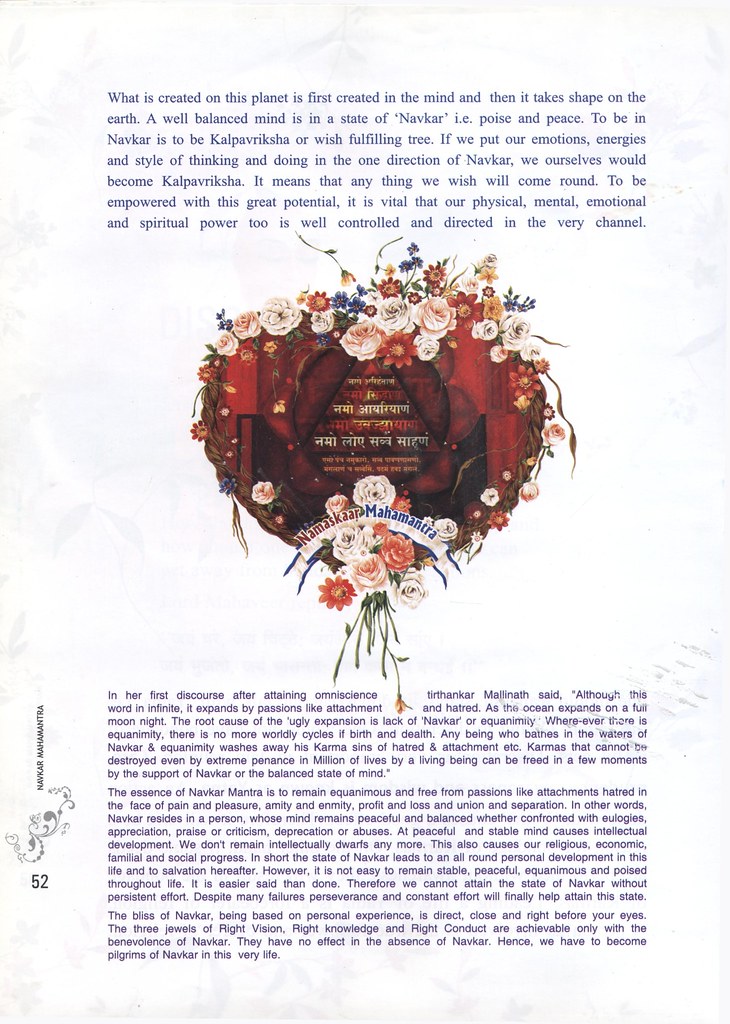 Page 53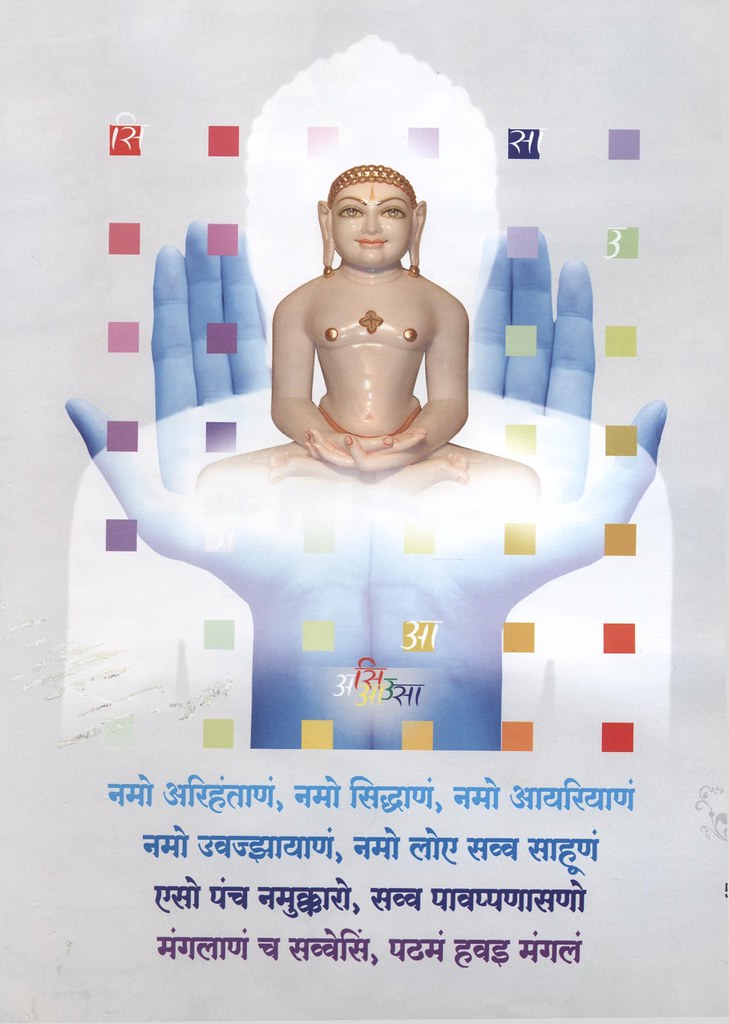 ▲ End of book ▲