Page 46+47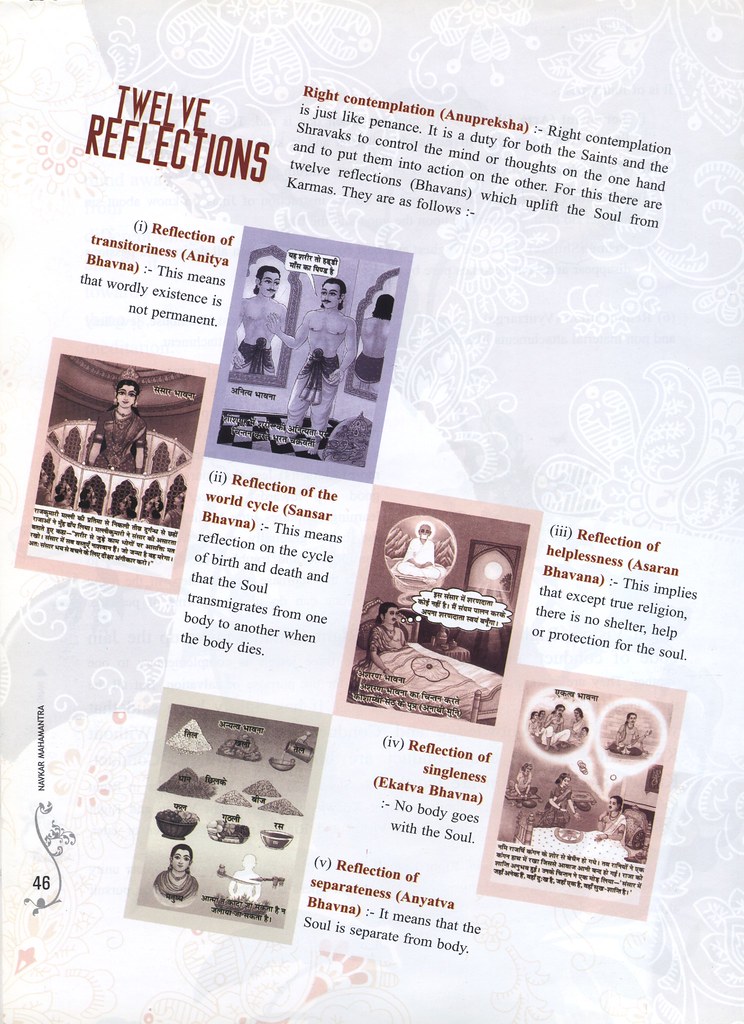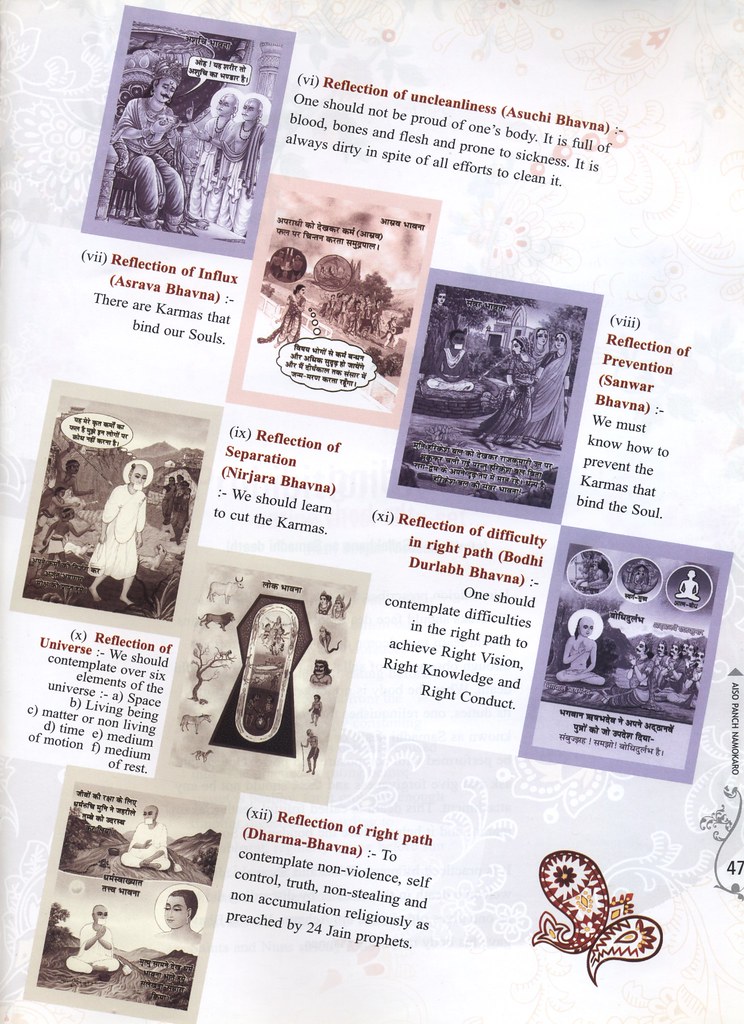 Text:
Right contemplation (Anupreksha)
Right contemplation is just like penance. It is a duty for both the Saints and the Shravaks to control the mind or thoughts on the one hand and to put them into action on the other.

For this there are twelve reflections (Bhavanas) which uplift the Soul from Karmas. They are as follows

Reflection of transitoriness (Anitya Bhavna)
This means that wordly existence is not permanent.

Reflection of the world cycle (Sansar Bhavna)
This means reflection on the cycle of birth and death and that the Soul transmigrates from one body to another when the body dies.

Reflection of helplessness (Asaran Bhavna)
This implies that except true religion, there is no shelter, help or protection for the soul.

Reflection of singleness (Ekatva Bhavna)
No body goes with the Soul.

Reflection of separateness (Anyatva Bhavna)
It means that the Soul is separate from body.

Reflection of uncleanliness (Asuchi Bhavna)
One should not be proud of one's body. It is full of blood, bones and flesh and prone to sickness. It is always dirty in spite of all efforts to clean it.

Reflection of Influx (Asrava Bhavna)
There are Karmas that bind our Souls.

Reflection of Prevention (Sanwar Bhavna)
We must know how to prevent the Karmas that bind the Soul.

Reflection of Separation (Nirjara Bhavna)
We should learn to cut the Karmas.

Reflection of Universe
We should contemplate over six elements of the universe:- a) Space b) Living being c) matter or non living d) time e) medium of motion f) medium of rest.

Reflection of difficulty in right path (Bodhi Durlabh Bhavna)
One should contemplate difficulties in the right path to achieve Right Vision, Right Knowledge and Right Conduct.

Reflection of right path (Dharma-Bhavna) To contemplate non-violence, self control, truth, non-stealing and non accumulation religiously as preached by 24 Jain prophets.