Page 25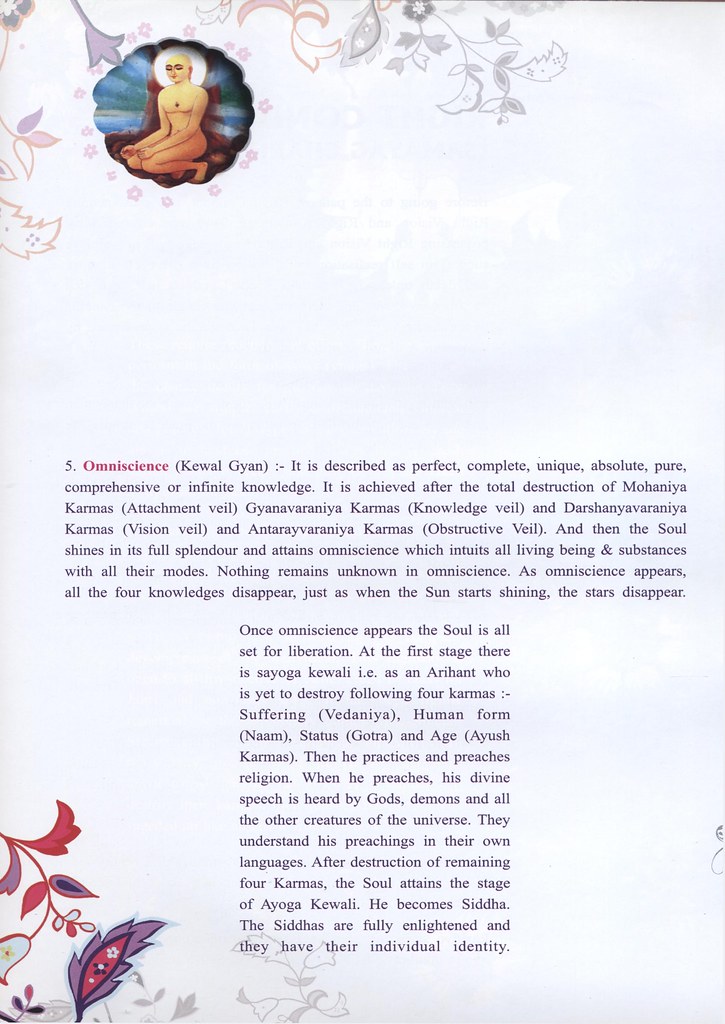 Text:
5. Omniscience (Kewal Gyan):
It is described as perfect, complete, unique, absolute, pure, comprehensive or infinite knowledge. It is achieved after the total destruction of Mohaniya Karmas (Attachment veil) Gyanavaraniya Karmas (Knowledge veil) and Darshanyavaraniya Karmas (Vision veil) and Antarayvaraniya Karmas (Obstructive Veil).

And then the Soul shines in its full splendour and attains omniscience which intuits all living being & substances with all their modes. Nothing remains unknown in omniscience. As omniscience appears, all the four types of knowledge disappear, just as when the sun starts shining, the stars disappear.

Once omniscience appears the Soul is all set for liberation.At the first stage there is sayoga kewali i.e. as an Arihant who is yet to destroy following four karmas:Suffering (Vedaniya), Human form (Naam), Status (Gotra) and Age (Ayush Karmas). Then he practices and preaches religion. When he preaches, his divine speech is heard by Gods, demons and all the other creatures of the universe. They understand his preachings in their own languages. After destruction of remaining four Karmas, the Soul attains the stage of Ayoga Kewali. He becomes Siddha. The Siddhas are fully enlightened and they have their individual identity.