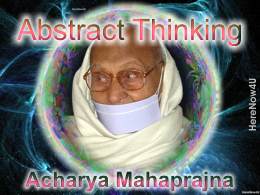 The body is full of vibrations. To know that these vibrations take place continuously is preksha. While practising anupreksha we learn that these vibrations are transitory. No vibrations are lasting. They last but a moment. They are momentary. There is a quivering one moment, and the very next moment it is gone. The tremor is transitory. All the vibrations taking place in the body are transitory. If the body contracts a disease, that too is transient. While practising anupreksha thus, we reach a point when the cycle of infatuation or attachment stands broken.
Lord Mahavira practised the anupreksha of transitoriness for six months before his initiation. Generally it is believed that Lord Mahavira was born a god. No man is born as a god. Every man is born as a man and he makes progress in manner proper to a man. Mahavira practised meditation, did a number of exercises and in course of time he realized himself as god. Lord Mahavira was born with the capability to become God, but he did not become God the moment he was born. Therefore it is believed that every Great Preceptor is at birth a potential-preceptor, who after realising himself through spiritual practice, becomes a Great Preceptor in deed and fact. Only when they manifest truth through omniscience, do they really become Great Preceptors. Lord Mahavira too, was not born as God. He was born a man and became God only after developing his consciousness. Every man can become God. Mahavira never said that only he could become God and all others must continue as his devotees and they in themselves would never become God. Mahavira never made any distinction like that. He declared unambiguously that each man could become God. That God should continue as God and the devotees should continue as devotees forever does not appeal to reason, nor is it proper. That a king should remain a king and a pauper should continue a pauper for life, is not acceptable to modern thought. What is acceptable to the present age is the idea that all men should have equal opportunities for self-development. Lord Mahavira was permeated by this bhavana when he said, "Each man can become God."
The anupreksha of transitoriness is an exercise of scriptural knowledge, of self-knowledge. When we firmly hold the reins of scriptural knowledge in our hand, the horse of the mind can cause us no hurt. Through the use of scriptural knowledge we must integrate our mind and control it. Which means that we should not become a slave to our mind, but make the mind our slave. We should not become obedient servants of the mind; rather we should turn our mind into an obedient servant. He who does whatever comes to his mind, is a slave to his mind. The wise man is he who ponders over what comes to his mind with a view to finding out whether he should act upon it or not. Only when after mature deliberation, he concludes that a particular thought is right and proper, does a wise man implement it. This would mean that the reins of the horse are in our hands and we are driving it, the horse is not running on its own. When the reins go out of a man's hand, confusion overtakes him.
When the reins of scriptural knowledge go out of a man's hand, he cannot see, even though he has eyes. He finds himself in a curious state of mind, and even the role of the mind is changed (for the worse). It is therefore very necessary that we hold in our hands powerful reins to make the horse of our mind to keep to the right, path. Those reins are:
anupreksha,
scriptural knowledge,
self-introspection,
self-realization.
To know about oneself, to think about oneself, to deliberate upon oneself and to directly experience oneself - this is anupreksha. When preksha is combined with anupreksha, the horse of the mind starts traversing the royal path leading to salvation. And then the question of the mind being fickle fails by the wayside.