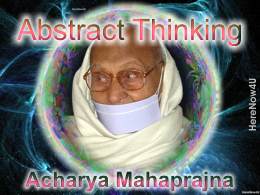 Purity in speech is based upon truth. The discrimination of right utterance is all to the good; likewise an appreciation of the vibrations produced, but if the sentiment behind the words is unreal and false, all stands marred. If we analyse the present-day problems, we shall find that falsehood is largely at the root of them all. That is why all our problems get more and more complicated. You might say that society can not subsist without falsehood. All politics is based upon diplomacy and the basis of diplomacy is untruth. From the lowest to the highest, the business of society is based upon falsehood. He who tells a lie is saved; he who speaks the truth goes under.
The judge said to the convict: "You are present in the court of justice. Speak the truth; no falsehood! Do you know where truth or lies will take you?"
The criminal said, "Mr. Justice!! Know it well: If I tell a lie, I'll go to hell and if I speak the truth, I'll go to jail."
Today, every man has come to believe that in society as it is organised, to speak the truth is to invite trouble and difficulties. He, who is proficient in telling lies, goes scot-free even after committing the greatest crimes. A clever talker knows how to cover his lies and he prospers. And the man who speaks the truth is a nincompoop, a lunatic or a fool. Such is the prevalent belief, today. It is because of this belief that the whole business of living has gone topsy-turvy. We want that injustice, immorality and tyranny should end, that honesty and authenticity should flower, truth should reign. But how is it possible? The very foundation of it is being demolished. When there is an illusion at the root, how can we accomplish what we want?
Lord Mahavira has presented a beautiful exposition of truth. He says Truth is where there is the straightness of body, simplicity of feeling and of speech and a going beyond all absurdity." To uphold one thing today and quite another the next day displays a contradiction in thought. Truth transcends all contradiction. What a truthful persons says today, he abides by it 25 years later. There is nothing incongruous or irrelevant in what he says. What we witness now a day is crookedness of feeling and speech. There is contradiction at every step. In such a situation, how can there be any purity or force in speech? In the case of a person who has achieved perfection of speech, whatever escapes his lips, transpires. No statement of his can be false. The greatest means of achieving perfection of speech is - truth. He who always speaks the truth - his word none can gainsay. His utterance cannot be falsified. There is so much force in the vibrations and atoms of his speech that even nature cannot but abide by it. What he says comes to pass per force. A man may come to have such force of truth and of brahmacharya as to influence even nature - if the sky is overcast, it clears up, or the clouds form in the sky as per his convenience.
Rishirai was a great sadhak. Whenever he started on a foot-journey, clouds began to gather in the sky. The hot sun grew mild. All this happens and much more. The power of truth is unlimited. But nowadays, people learn even from childhood that speaking the truth would hurt them and it is safer to tell a lie. If such be the precept in vogue, the question of establishing truth does not arise. Under the circumstances, where and how is poor truth to be established?
The way to perfection in speech lies through devotion to truth. Those who have dedicated themselves to truth have progressed ahead, even though belatedly. Unwavering faith in truth always yields good results. It is basically a question of faith. Such a faith does not generally evolve; it perishes before it can develop. But if one always sticks to truth, one's word is endowed with tremendous power and it leads to perfection in speech: whatever is said then gets done!