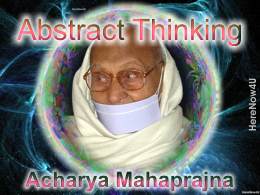 Today's man is so intolerant that he cannot bear any hardship. This is the dreadful malady of the age. Man has become incapable of meeting any challenge. What lies behind the development of heaters and coolers? These were evolved when man became incapable of enduring the seasonal changes. Man's capacity to brave the elements has decreased. The failure of electricity even for a short while upsets him quite. He cannot do without a fan in summer, a heater in winter. If we look at the ancient houses, we shall find that these had very small doors and no windows, and if they had any windows at all, these were also very small. Today, even cattle cannot be accommodated in those houses. Even today's cattle have been affected by man's behaviours. They, too, prefer to be lodged in more commodious stalls, so as to have greater freedom of movement. One cannot help wondering how ancient people could live in those houses.
Acharya Bhikshu spent one chaturmas in a pakka stall in Siriyari village. That stall exists today almost in its original state. What to speak of spending his chaturmas, a modern monk will not want to spend even a day in such a place. He would pass a whole day in finding a new abode, rather than pass a night in that stall. Why? The reason is very clear. The people of those days were very strong and forbearing. They could endure all kinds of hardships. With the development of modern amenities, man's power of tolerance has decreased. Abundant means for amenities are available today. Still new devices are being evolved. We call it progress. I, too, do not deny that man has progressed in this sphere. He has certainly progressed and is today seeking ever-new dimensions. However, it must be granted that although man has progressed in the material world, in the world of inner consciousness where tolerance reigned, he has lost a great deal.
There is so much impatience. Intolerance breeds restlessness. It appears as if man today has lost all patience. If the master reprimands the servant, the latter immediately offers his resignation. The master cannot do without the servant. So he himself says, "All right! I shan't reprimand you in future." Everything has gone topsy-turvy. In the old times, the master kept the servant in great discipline and how modestly and humbly the servant behaved! How polite and forbearing the servant was! Today, the father thinks ten times before saying anything to his son, wondering how the son would take it and that he might not leave the house in a huff or commit suicide. Sometimes, the father stops dead in the very middle of his reprimand.
Every man today is restive. His impatience has crossed all limits. Not only has man lost the capacity to bear the natural heat and cold, he has also grown incapable of meeting the universal heat and cold.
Today, intolerance has reached its extreme. Take the case of two brothers or friends. Brotherliness and friendship lasts only as long as nothing adverse is said or done. All sense of brotherliness or friendship evaporates the moment something contrary is uttered. The disciple is generally polite and humble before the guru; he is dedicated to him. But politeness and dedication continue only as long as the guru does not deliver any severe admonishment. And the pupil's self continues to grow strong. The moment something is said, some heat displayed, the pupil melts like wax and disintegrates.
No discipline is possible without the development of tolerance. We try to maintain discipline. We want to inculcate discipline among the students and policeman, among the labourers and the workers. We want discipline to grow in every sphere. All of us want discipline, but we forget the basic fact that without the development of the power of tolerance, there can be no progress towards discipline. Therefore, all our effort should be directed towards developing the power of tolerance. Only then will discipline flower.
The development of tolerance is the development of power.
With this force, it is possible to bear other people's deficiencies and idiosyncrasies.
The problem of discipline has become very acute today because man has grown to be intolerant. Without tolerance there can be no growth of discipline. Discipline is only an effect and the cause thereof is the power of tolerance.