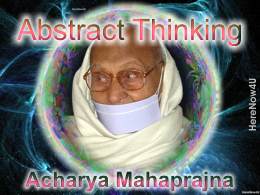 Acharya Bhikshu enunciated an important maxim. He said,
"I shall live with my community, but I shall live alone. I shall not tie myself up with anyone."
To live in the Order and yet alone - is very significant indeed. It is the prime secret of sadhana. We cannot be totally alone. A person may think that if he retires to a forest, he will be alone. But this is an illusion. Sometimes a person who retires to a forest is even more crowded than one living in a village. How can we be really alone when thousands and thousands of impressions permeate our being? There is an unimaginable crowd of thoughts in the brain. With all that crowd, wherever we go, can we be really alone? There is no occasion for us to be alone. As long as the brain is not emptied of all thoughts, a man cannot be alone, never.
The only way to experience aloneness is to accept the truth that all coming together is accidental. This body, clothes, shelter are ail transitory. Passions like anger, etc. and diseases are fortuitous. They are not innate but conditional.
A man is really alone only when the bondage of attachment and pride is dissolved, and when one is in communion with the soul. With the gradual deepening of the experience of aloneness, the truth becomes apparent that
"I am alone"
In this perspective a question arises as to whether this kind of thinking will not lead to the breaking up of all family ties. We must not consider this question from a partial viewpoint. For the conduct of the pilgrimage of life, on practical grounds, it is necessary to realise that "I am not alone. My fate is linked with other. I am attached to my family, to my village, to my country. Many subtle threads bind me." While on the ground of behaviour, a man should feel himself bound with a thousand ties, on the ground of spirituality, he should feel himself to be free of those ties. Let both these conditions co-exist. There should be a synthesis of the two. Along with the practical point-of-view, the final vision, the vision of preksha should continue. He, who lives a social life, is tied up with many threads. But if a man is content to live a life of bondage and does not awaken his spiritual consciousness, the infatuation grows so strong that the threads become sturdy ropes from which it is not easy to get free later.
Let us awaken our consciousness through anupreksha and experience in ourselves the feeling:
"I am alone:"
"I am a conscious being, animate."
"This body is unconscious, inanimate."