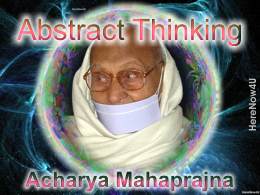 We should not be attached to the old. We are living in the twentieth century today, bur scriptures, our books, our rules of conduct were made 4-5 thousand years ago. Since then there have occurred changes of time and space, our capacity for thought has increased, many scientific achievements have come up, new books have been written. If we shut our eyes to all these developments and take our present decisions only on the basis of what was done in the past - this one-sided and partial approach, can only lead us to destitution. I think the reason for India's backwardness in many spheres is that she has ceased to take initiative in the field of science and other disciplines. The pre-Mahabharata age was the age of India's great achievements. It was the age of the opening of new dimensions of thought. But, it seems to me for the last two thousand years the door has been quite shut on original thinking.
India was vanquished a number of times. She was defeated by foreign invaders. Why? Did she lack fighters? Were there no gallant Warriors here? As far as heroism is concerned, as compared to India, the whole world has had fewer warriors. You will find here plenty of people who are ready to lay down their lives for the country. But Indians have lagged behind in technology. While the foreigners used gun-powder, the Indians fought with swords. How could the sword compete with gun-powder? The English were already using cannons when the Indians acquired guns. The Indians lagged behind, not 3-4 but many generations. The series of defeats we suffered was not due to the lack of heroism, nor due to the lack of energy, but because of our lagging behind in the field of science. Let us not be infatuated by the past. Rather let us make full use of the past. We must derive full benefit from all the development that has taken place to date. A child seated on his father's shoulders, views things from above. The elevation of his father's shoulders comes to him naturally: added to it is his own stature. We seem to have tamely accepted that a disciple should not excel his guru; that he should not go beyond what the guru has told him. I think a modest disciple is he who advances further what the guru has taught him. He should develop further his guru's teaching and not rest contented with merely repeating it endlessly. A disciple who fails to do so, I do not consider him to be very polite or capable.
Even now we are merely imitating others. Originality is lacking. The educators, teachers and instructors of India should seriously consider how they can evolve original techniques of teaching. They must not merely copy or follow others. Imitation is after all imitation.
The tendency to imitate is largely prevalent in India even today. We should really draw up our educational plans in accordance with our own needs, and not on the basis of what others tell us. While in Delhi, I asked Shri Naik, Secretary at the University Grants Cimmission, if it was not possible for them to extend their training programme from one to two years so as to include in it training for mental and moral development. After all, mental debility was at the root of a great number of our problems. While recognising the utility of mental and moral training, he expressed his inability to do anything about it. He said, "Our Commission has many foreign specialists and the Government will implement their suggestions." Our talk ended there.
In the end I should like to say that the teachers should realize their responsibility and duly contribute towards the moral development of the country's future wealth. While traversing the path of goodness themselves, they should inspire the nation also to follow that path.