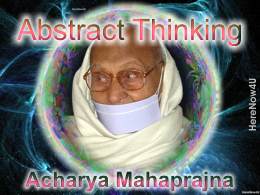 To keep equanimous in both kinds of predicaments - favourable and unfavourable - is indifference. The sadhak does not have to link himself with material objects, nor does he have to relinquish them. A material object is a material object; there is no attachment or aversion in it. Attachment and aversion lie within us. When a man identifies himself with somebody, he creates attachment; when he parts from someone or hates somebody, he creates aversion. Wherever a sadhak finds attachment and aversion, he should ignore them and immediately go within himself. As in the case of material objects, attachment and aversion can develop with respect to a personality, a form or a special skill.
Monk Vakkali was so much fascinated by Buddha's appearance that he kept staring at himself. Buddha said, "How is it Vakkali, you keep looking at my body? It is made up of bone, flesh, blood, etc, just as is your own body. If you really want to observe beauty, look at the beauty of Buddha's religious work. He who observes religion, observes me!" This is also bondage: Anand was attached to Buddha: Gautam to Mahavir. The path of attachment is easier to follow. Man delights in being bound. If he does relinquish on bondage, he immediately forms another. It is hard to be indifferent. The sadhak who practises the bhavana of indifference, does not attach himself to any animate or inanimate being, He keeps indifferent in all his relationship and continues to move objectively towards his goal.
Abraham Lincoln was elected President. As he rose in Parliament to deliver his speech, somebody said sarcastically, "Do you remember, you are the son of a cobbler?" Lincoln said, "Thanks for reminding me of my father. He was an efficient cobbler. I wish I could be as efficient a president!" "He was a shoe-maker!", Lincoln's denigrator interposed for the second time. Lincoln was not at all provoked. Very objectively he said, "Yes, and nobody could find any fault with his work! Do you have any complaint?"
When a sadhak becomes accomplished in the bhavana of indifference, the contraries like joy and gloom, happiness and sorrow, honour and dishonour, etc., naturally start dissolving.
That is why the Acharya prays for the middle path: "O Lord! Those who speak ill of me, those who defy me, do not listen to me and run contrary to my wishes - let toleration arise in my heart for them all! Let me remain indifferent towards their hostile conduct! Let no feeling of enmity arise in me! I should rest content with having done my work, let them do theirs!"
Acharya Som Dev wrote: "Samta Paramanacharanam" - the greatest principle of conduct is - equanimity, equability, equality. This is not only the dictum of socialism or communism, but the principle behind all wholesome thinking: "wherever there exists an equanimous state of mind, society progresses; and where social conduct is vitiated by inequity, society degenerates. The refinement of conduct means - the development of equanimity.