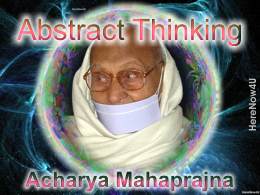 The practice of noble action in life is not possible without the capacity for enduring pain. With this capacity are linked all sublime actions and unique achievements. That is why it has been said - "He, who bears hardships, endures pain, touches the summit of progress."
Two ways of living have been described. The first is a life characterized by tolerance and capacity for enduring pain - the other a life of comfort and ease. The man who wants to succeed in life, he who wants to become something, will never opt for a life of mean comfort.
A sadhak should be able to bear pain. The practitioners of meditation should not be perturbed by it. Training should be imparted in the development of capacity for endurance. Wherever there live more than two persons, many kinds of difficulties sometimes arise. If no difficulties arise, it redounds to the efficiency of the organisers. But an opportunity for enduring hardship should always be welcome. This provides a test for the sadhaks.
The Jain organisers are adjudged by their efficiency of organisation. Likewise, the sadhaks are adjudged by their capacity for enduring deficiencies in organisation. At the time of initiation for preksha meditation, the sadhak takes a pledge to the effect that he would practise non-reaction. Will a person who endures hardships never react? He, who cannot bear pain, will not be able to avoid reaction. His mind reacts at every step. Only he can be free from reaction, who has the capacity for enduring pain, in whom tolerance has flowered.
Tolerance is a great power of our consciousness. It is the blazing fire, the flame that lights our life. Without the awakening of the consciousness for enduring hardships, life remains unenlightened. There can be no light without the fire. All remains darksome. He who wants to become a flame, he who wants to fill his life with light, must become tolerant of pain. Along with the capacity for enduring pain, he must also develop in himself a high morale. It comes of itself. It is something rational-through reason, through the capacity for tolerance, one develops a high morale. To bear many hardships all at once is difficult, but gradually a man must develop his capacity for enduring pain.