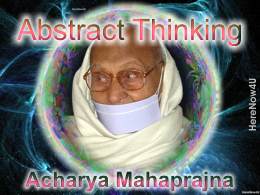 Attributes are of two kinds - general and particular. General qualities are common to both the animate and the inanimate. The soul, though conscious, is yet intangible. And inanimate objects can be immaterial, too. Dharmastikaya, Adharmastikaya, are inanimate, yet immaterial. In this respect, both the conscious soul and the inanimate dharmastikaya are alike. Both are immaterial. Dharmastikaya is substance, but not material; it is immaterial. We often say that the soul is immaterial. But is not dharmastikaya immaterial too? There is a great deal of similarity between the two. In fact there is greater similarity then dissimilarity. He, who sticks to the gross mode, embraces in equivalence, losing sight of the common identity. That is why controversy, communalism and conflict arise; gross modes constitute the basis of their existence. In the outer world there is greater dissimilarity than similarity, whereas in the inner world there is greater likeness than unlikeness. This is what we wish to accomplish through the process of meditation - to develop such an outlook, to make out intelligence so perfect and pure as to enable us to witness the similarity behind all dissimilarity.
Kabir's son, Kamal, went to the jungle to collect fodder He did not return home by sunset. Kabir grew worried about him. He set out to find him and reached the forest. There he saw Kamal standing as one unhinged, simply looking at the grass, without cutting it. He shook him violently and said, "What are you about? The sun has set and you have not cut any grass!" Kamal said, "What do you want me to cut? Shall I cut myself into pieces? I see in the grass the same vital current flowing as flows within me. How may I crop it then? Oh no, Kamal can no longer cut any grass!"
Lord Mahavira has given expression to this kind of common identity thus:
"O man! The person you want to kill is no other than yourself!"
In this context, one may profitably meditate upon Mahavira s other saying:
"The person you wish to command is none other than yourself."
"The person you think deserves chastisement is none other than yourself."
'The person you think deserves to be a slave, is none other than yourself."
"The person you think deserves to be killed is none other than yourself."
This realization of the supreme truth is based upon anekanta, the doctrine of non-absolutism. Only he, who is free from attachment and aversion, can accept this doctrine. The person, who is caught in attachment and aversion, can never accept it. As a matter of fact, Anekanta, the doctrine of many-sided perception, constitutes the philosophy of meditation and sadhana. Only in that person whose consciousness is pure and free from attachment and aversion, does the vision of anekanta, the wisdom born of truth, awaken.