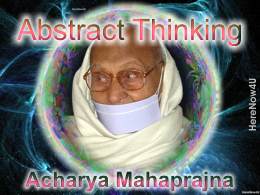 This idea has found an elaborate treatment in Poetics. There are three kinds of sentiments - the enduring, the righteous and the fleeting. What sentiments arise in a particular posture? How does an individual reveal himself? All this becomes known. There are different postures for the expression of the erotic sentiment, of pathos, of disgust, of anger, and of tranquillity. Each and every sentiment has its particular pose. Sentiment, feeling and posture are all linked together. If the sentiment of fear pervades the mind, it gives rise to a particular kind of demeanour. The man who is afraid has a shrunken look. The face can shrink as well as expand. It contracts in fear and expands in joy.
The face of a happy person blossoms like a flower. On the other hand, a fear-stricken face shrinks. It appears to grow very lank and thin. In a state of fear, certain changes take place in the external features and these are quite apparent to us. But changes also take place in the inner parts of the organism. The heart beats faster, the blood pressure increases, the throat is parched, the saliva-producing glands become inactive. The fane shrivels up, the stomach and the intestines contract. There is loss of appetite. The man, who is fear-stricken from day to day, cannot but suffer loss of appetite. There also occurs a change in the conductivity of the skin; it becomes more sensitive.
A man tells a lie, commits a crime, and is presented before a magistrate. He is afraid that his lie will be exposed. Now how do the disbursers of justice find out that he is telling a lie? Certain appliances have been developed of late. The accused is made to stand before a machine. The needle of the galvanometer revolves. The man is afraid lest his lie will be detected. Fear causes excitement. The inner parts of the body are stimulated by fear. The galvanometer shows all this and proves that the man is telling a lie, that he has committed the crime. All this transpires because of the conductivity of the skin. The conductivity of the skin is measured and it reveals the truth. In the case of anger, fear or any other kind of emotion, our outer features undergo a change and the inner climate also changes. Both these can be known. In the course of a singe day, a man assumes hundreds of poses. With the help of a sophisticated device or a sensitive camera of high frequency, the differing poses can be exposed. The posture of five minutes ago will not continue five minutes after. As the inner sentiment changes, a corresponding change is reflected in the outer features. And it is on this basis of the science of face reading, all man's inner proclivities can be surmised and his future determined.