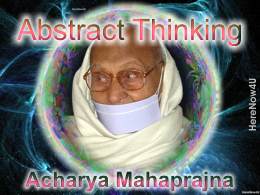 The second part of preksha meditation is - anupreksha.
Anupreksha means - contemplating upon the perceptions experienced during meditation.
"Anu" means "afterwards".

Whatever one perceives during meditation, during preksha, to meditate on it later to contemplate the effects, is anupreksha. For example, we perceive vibrations in a particular part of the body. We perceive the movement of atoms, their coming and going, their accumulation and dissolution. Having perceived all this, we meditate upon the effects thereof. Wherever there is the vibration of atoms, their accumulation and dissolution, there the eternal cannot be, only what is transitory. We thus come to know that the body is transitory. What is the basis of knowing that the body is transitory? The basis is our perception of vibrations in the body, of movement, the coming and going of atoms, their origination and dissolution. All this means that the body is transitory. To experience this transitoriness, to ponder and reflect upon it, is the anupreksha of transitoriness.
Anupreksha is an important exercise of the science of living. Preksha is very important for acquainting oneself with the facts of life, but for changing one's habits, one takes recourse to anupreksha, which may be termed as 'suggestology'. It is being employed for curing ills. A suggestion can be given in two ways. A person makes a suggestion to himself or he accepts a suggestion given by another. Both kinds are in vogue. Through these suggestions, unimaginable things have come to pass.
The practice of anupreksha is an exercise of suggestionism. It is the technique of auto-suggestion in which a person makes a suggestion to himself.
If a man suggests to himself that he is ill and he does it for a week, he wiH certainly fall ill. Another person suggests to himself, "I am healthy, I am quite all right", and he will begin to experience good health, ff the suggestion is given with a full understanding of the technique of auto-suggestion, one's health is bound to improve.
The technique of anupreksha is an infallible method of bringing about a change in one's character. Through it, it is possible to change even a most inveterate habit. It may be the habit of drinking, or of smoking, of stealing, of lying or dissimulation, of bad conduct and character, It is possible to change it through the technique of anupreksha. In the technique of the science of living, one is made to practise preksha and anupreksha. Nothing else is taught. Neither a book, nor any language, nor literature, nor research, nor criticism, nor history nor arithmetic, nor geography, nor science. Nothing whatsoever. Only practice, practice alone. Practice requires application and training, for which nothing need be imported from outside, for each person is endowed with the essential requisites. The physical organism, speech, breath and colour - we all possess these. Only we have to make use of them. Where and how to use them, we have to learn. We have with us everything. What is required is right conjugation - when and where to fuse one element with another. The man, who comes to know of it, learns how to utilize his inner powers and properly regulate the bioelectricity, the chemicals and his breathing, so as to resolve the manifold problems of life.
The practice of anupreksha is very important for avoiding the unreal. The entire development of japa is based on that. The japa has developed on the principle of anupreksha. Reiterate the deity's name, go on repeating the sacred formula, because if auspicious feelings and thoughts permeate your mind, there would be no occasion at all for inauspicious feeling to arise. That is why recourse is taken to the sacred spell. Some people do not recognize the utility of a sacred spell in the field of spiritual practice. We however believe that a sacred spell has very great utility which cannot be denied or repudiated, because we cannot all on a sudden directly become aveetaraga by transcending our passions. The instance of a sudden jump is uncommon. A rare individual may be able to make a sudden jump but if every Tom, Dick and Harry can do it, why need a staircase then. If all start jumping like that, perhaps the hospitals would be filled to capacity and not enough room will be left for the injured. It would create a problem. A sadden leap into veetaragata cannot be a universal affair. It may occur here and there, as an exception to the rule. The talk of going into veetaragata is like making a sudden leap.
We shall have to make use of the staircase. With the help of the staircase, a man can climb up. There are two possibilities. Using the same staircase, one can go up, but one may also go down. It is not that there is one staircase for going up and another separate staircase for going down. The same staircase can be used for going up and coming down. Our inward current of feeling can take us up; it can also take us down. When this current is conjoined with the real, we go up; an ascent takes place. The moment our current is conjoined with the unreal, the descent begins and a man goes down. The evolution of japa or that of the sacred spell took place so as to provide fewer opportunities for evil thought to enter our hearts.