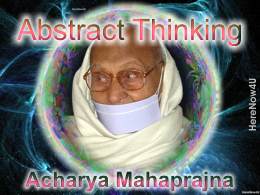 Freedom is the great gift of philosophy. All people desire freedom of thought, of writing and of speech. No one wants to live in bondage to another. The word, "Raja" (meaning king, monarch or prince) had become a subject of history and lexicology. Likewise, the word "naukar" (meaning 'servant') is gradually becoming obsolete, a thing of the past. It means that we are moving towards greater freedom and greater absolutism, in the sense that each man takes pride in acting on his own. That the link of relativity should stand snapped is no great matter; nor is it to be regretted if the hierarchical order is abolished; nor is the absence of government or outside rule objectionable, provided it gives way to self-rule. A self-disciplined person is not subject to any rule; nor is he free from it. "He alone is proficient who is neither fettered nor unfettered."
But how is it possible for a person to be fettered and unfettered at one and the same time? Some kind of government or administration we must have. Without it, there can be no security and nobody wants to be insecure. It is here that self-discipline comes in. A self-disciplined person is proficient because he is not subject to any outside authority and he is not devoid of inner self-discipline He is neither bound nor unbound.
It is necessary to develop the mentality of self-discipline. Wherever we look around, we find that there is envy, there is the desire to denigrate and push the other person down, and there is great intolerance. Why does it happen so in a society where everything is related to everything else? That is a most pertinent question.
The communist ideal is a society free from the trammels of administration. But what does actually happen there? Every man seeks security for himself and the downfall of his opponent. On the one hand, we have the ideal of a free society; on the other hand, we have the conflict of self-interests. What is this, if not complete separation of philosophy from life?
A man takes it for granted that what really matters are his own advancements, that he alone should be prominent and powerful. This individualistic mentality hinders social relations. However, with the development of self-discipline, a man, while remaining an individual, does not grow to be anti-social.
It is due to non-comprehension of the limitations of self that an individual allows himself to be imposed upon by another. During the transitional period, every thing appears to be small; even a great thing is contained in the minor. An individual wants the whole of creation to merge in him, but such a person will never realize the truth.
The individual is like an ocean in which are frolicking waves of attachment and aversion. A vision of truth is not possible there. Only a person who transcends these waves can possess a clear vision; he who remains immersed in waves cannot.
In the socialistic system, power is concentrated in the hands of a few individuals. The general public finds itself to be utterly helpless. Those who depend upon their own resolution, never lack refuge.
The word 'arms' contains within it a suggestion of security, which is not real. Even those who possess awful weapons do not feel secure and are filed with fear.
Dasharanbhadra set out to visit Lord Mahavira with great pomp and show. Indra formed an army. Dasharanbhadra was defeated. He was lost in considerations of salvation and non-salvation, because he had crossed into the sphere of other. Ultimately, he sought refuge in Lord Mahavira and was victorious. Now it was Indra's turn to fall at the feet of the Lord.
He, who was defeated under another's rule, was victorious under self-rule. He, who lives in society, must keep within the bounds of the self. With the development of self-rule, there would be no disorder in society, rather a special kind of order. There will be no artificial laws but natural. The source of inspiration will not be fear but dutifulness.