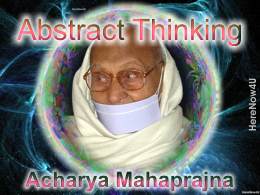 Man is imperfect. Because he is imperfect, he tries to complete himself through the acquisition of material objects. He is confronted with many problems such as suffering, unrest, poverty, etc. To come out victorious in his struggle, he wants other people's support. He looks around for shelter and refuge. He does find some support and refuge in the social world, but such refuge is only temporary. The truth of all times is this that a man can definitely rely only on his own valour and exertion. In fact, shelter or refuge lies only in one's own endeavour, nowhere else. On the basis of this ultimate truth, not to repose too much or exclusive trust in other people's protection, constitutes the bhavana of not seeking refuge outside oneself. The man who is permeated by this bhavana develops a strong sense of responsibility and his equanimity is not disturbed even when others betray him.
He, who is not fully acquainted with his own being, cannot feel secure anywhere. Wealth, material possessions and family all these are different from one's essence. That which is alien, can provide no refuge.
Lord Mahavira said:
"He who mistakes insecurity for security and security for insecurity goes astray."
One's security lies in one's own being. To seek refuge in oneself is the quintessence of the anupreksha of insecurity.
The practitioner of meditation is very alert, and awake. He keeps breaking his illusions. The man, who visualises a haven in everyone, is suffering from a very great illusion. One may be required to do so in everyday living, but this cannot be the ultimate truth. Everything cannot become a refuge. We must see it very clearly that our behaviour is not the ultimate truth. Behaviour is one thing and reality is another. The truth of behaviour belongs to the sphere of conduct and the truth of reality is factual. The truth of behaviour is this much that as long as their self-interests cohere, two persons constitute a refuge to each other. The moment one's self-interest is in jeopardy, all sense of protection evaporates. One is assailed by self-pity. "I did so much for him, and this is the reward I get for all I have done!" Hurt is caused not by another person's conduct, but by one's own forgetfulness of the law. When one accepts behaviour, some material object or person, to be the ultimate truth, one is bound to suffer. This constitutes the anupreksha of insecurity. In practical life, one may seek refuge in various objects, but one must never be oblivious to the truth that real or ultimate protection lies in one's own knowledge, one's own perception, one's own conduct and behaviour. Ultimately, no one can be a refuge to another.