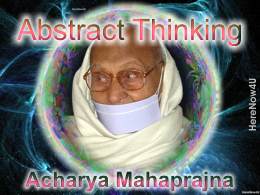 A mythological tale runs as follows. Indra, the chief of gods, said to his council - 'There is not a soul on earth as long-suffering as Mahavira. Not even a god can make him go astray." The members of Indra's council assented their chief's assertion. However, one god called Sangam had a different opinion. He said, "No man can be so long-suffering that a god, with all his power, cannot make him deviate from his path. I could prove it if you so desire." After obtaining permission from his chief, Sangam descended to the world of humans. He began to torment Mahavira.
Just in one night, he inflicted upon him twenty mortal pains. Assuming the form of an elephant, he tossed him high into the sky; later he bit him in the guise of a scorpion. Then, he attacked him in the garb of big black ants and drenched him in blood. All this failed to stir Mahavira. We are disturbed when we are afflicted with violence. We are afflicted with violence when we identify ourselves with sensation and feel that someone is tormenting us. It is the rule of non-violence that meditation should not be identified with sensation and the other person must not be viewed as causing pain to us. Excepting his own accumulation of karman, Mahavira did not regard anybody else as his tormentor and his meditation was never separated from awareness. That is why Sangam failed to achieve his objective even though he created around Mahavira an atmosphere of dreadful suffering.
Sangam sought another way to disturb Mahavira's tranquillity. He created a row of beautiful damsals to distract Mahavira. A non-violent person has to achieve victory over both favourable and unfavourable circumstances. To maintain one's equanimity in pleasant circumstances is far more difficult than to be victorious over adverse circumstance. However, when the great flame of fire of awareness is ignited, both kinds of fuels, favourable and unfavourable, get consumed. Awareness continues.
Sangam was completely demoralised. He approached Mahavira and said - "Illustrious Sir, you may now live in peace. I am going away. Your non-violence has trumphed over my violence. I was causing you pain and you were all the time bathing me in the stream of your limitless compassion. I was trying to drown you into the ocean of suffering, while you said to yourself, 'Here, Sangam is trying to make me an instrument of his plunge into an ocean of violence!' Not for a moment, did you entertain any grudge against me. I am fortunate to have witnessed with my eyes a matchless model of equanimity."
Fortitude is an element, which strengthens one's faith in morality. Generally, if a man performs a virtuous deed and does not get an immediate reward, he is inclined towards immorality. But a person possessed of fortitude continues in his righteous path regardless of consequences.