In the city of Rajgriha, a poor man named, Arjunmaali and his wife, Bandhumati lived. He used to worship a demi-god regularly, whose temple was situated outside the village.
One day, when he was busy in worshiping the demi-god as usual, six miscreants entered into the temple. They tied Arjun to a pillar and tortured his wife in front of him.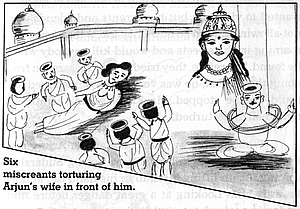 Being bound to the pillar, Arjun could not help his wife. He prayed his demi-god to help her, but in vain. He became furious due to humiliation and hatred. He wondered why the demi-god didn't protect them. Further he thought that there was no use of worshiping the idol, that was incapable to help his devotees. He made up his mind to destroy the temple and take revenge of the assault.
At this stage, the demi-god entered his body and gave him immense strength with which, Arjun broke open his bondage. He immediately attacked the miscreants with a big rod, killed all of them and also his wife, Bandhumati. He had become so furious that he took a vow that he will kill six men and a woman everyday. Arjun turned into a maniac. The news of Arjun's madness spread around the city. Listening to this news, people got terrified.
Meanwhile, Bhagwan Mahavir happened to visit Rajgriha. Seth Sudarshan, a devotee of Mahavir wanted to visit him but his parents and friends were not allowing him to go out. They knew that Arjun was roaming in the streets and would kill anybody whom he found. Therefore, they tried to stop Sudarshan from going there. But, he was very much determined and could not be stopped. He knew Arjun's wrath but remained unperturbed.
While on his way, he came across Arjunmaali who was waiting to kill someone. Seeing Sudarshan coming, Arjun lifting his club in his hand ran at once towards him. Looking at a great danger before him, Sudarshan stood in a relaxed position and started meditating. Arjun tried to move his club in the air to attack on Sudarshan's head, but he couldn't do so. He felt that his hands had refused to obey him and his body had become lifeless. He tried several times but all in vain. Now, he was feeling tired and powerless to stand up any more. He was so much dismayed and disgusted with himself that he fell flat on the ground and became unconscious.
After a while, experiencing himself safe, Sudarshan concluded his meditation. When he opened his eyes, he saw Arjun lying on the ground unconscious. He bent down and stroked him lovingly. Receiving a gentle caress from his hands, Arjun started to recover. After regaining consciousness, Arjun repented for his mania. Sudarshan consoled him with love and compassion and took him to Bhagwan Mahavir. Bhagwan Mahavir was preaching in the Samavasaran. On hearing the preaching, Arjun's heart underwent a transformation.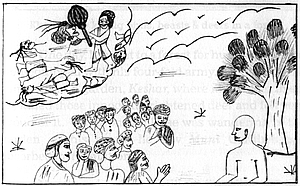 Bhagwan Mahavir is preaching and Arjun's heart underwent a transformation.
The victory of Non-violence and fearlessness over violence and terror happened there. At last, Arjun decided to devote himself to Bhagwan Mahavir.