Two thousand five hundred years ago, Lord Mahavir went to Pristha Champa from Rajgriha. From there, he headed towards Champa. There King Shaal and Prince Mahashaal renounced their kingdoms and became monks. Both requested Lord Mahavir to let them go back to Pristha Champa, so that more people could be prepared for sainthood and accept the right faith. Lord Mahavir ordered them to go there with Gautama. The purity of their thoughts than reached its peak, while on the way and both Shaal and Mahashaal became kevalis. There, Gaangali, the king, and his parents also accepted monkhood and they soon achieved the state of Keval Gyaan. All of them went to Lord Mahavir. Gautama did 'Vandana' and even ordered the others to do so. Lord Mahavir addressed Gautama and said, "Gautama, don't be impolite, towards Kevali." Gautama apologized to them but his mind was replete with doubts, "Shall I not be emancipated?"
One day, Gautama wanted to go up to the mountain Ashtaapad. Prior to him, there three Taapas- Kaudinya, Datta and Shaivaal, along with their five hundred disciples were performing penance. In order to reach the peak of Ashtaapad, Kaudinya, who was practicing fast on alternate days could only ascend the beginning of the mountain. Datta, performing Belaa (two days continuous fast) had gone a little beyond Kaudinya. And Shaivaal doing Telaa (three days continuous fast) had still not reached the mountaintop.
Gautama came across the three Taapas, and seeing him, they started talking to each other and said, "We have been performing penance for such a long time, yet we have not been able to reach the peak of Ashtaapad. How can Gautama think of reaching there?" Gautama used his divine power (jangha charan labdhi) and with the help of cobwebs, he climbed up the mountain. The Taapas were surprised, on seeing Gautama on the Ashtaapad. Then and there all the Taapas decided to become the followers of Gautama. When Gautama descended the mountain, the Taapas stopped him and said, "You are our Acharya and we are your disciples." At this Gautama replied, "I can't be your Acharya. Lord Mahavir is our guru." The surprised Taapas asked Gautama, "Even you have anAcharya!"
Gautama eulogized Lord Mahavir and welcomed all of them into his order and proceeded towards Lord Mahavir. On the way, all the Taapas attained Keval Gyaan. They all reached Lord Mahavir and Gautam did vandana to Him. He than asked the Taapas to do vandana. Lord Mahavir said, "Gautama! Don't be impolite towards Kevalis." At this, Gautama became depressed and impatient. It hurt him to think that the monks who were initiated after him had already achieved Keval Gyaan. He impatiently said, "When will I be able to attain that state?" Lord Mahavir assured him that, one day would come in his life when he would also attain the stage of Kevali and become emancipated. One should be patient and also be free from various attachments.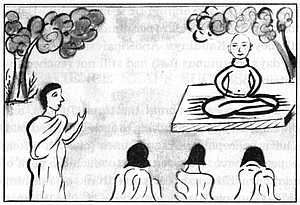 Gautama becoming impatient and Mahavir assures him that one day he will also attain Keval Gyaan and the three monks had already achived Keval Gyaan