Once upon a time, there lived a princess named Roopi in Basantpur. She would disguise herself in the attire of a man so that everybody may mistake her real identity
Once a rich person came to Basantpur for his wedding. After the marriage ceremony, in accordance with the custom, he reached Roopi to bestow the gift. The gentleman was so well shaped in flesh and appealing in countenance that she fell in love with him at the very first sight. She summoned him in solitude and proposed him. Hearing the princess's voice and her passionate desire he was startled. The gentleman had control over his senses and so he said, "I won't touch any other lady except my wife."
The man thought, "If I accept the princess's proposal, I will break my vow. If I reject it, the result may be detrimental." After pondering for some time, he made some excuse and ultimately returned to his house. Then he thought deeply about it. Finally he determined to renounce his house for keeping his vow.
He accepted the path of initiation. When the princess came to know about this, she became melancholic. She felt uneasy in his absence. She started thinking, "I cannot live without him and the only means of pondering my intention is by accepting initiation. Then I can contact him, and he shall be mine." Pursuing this line of thinking, she became a nun. The nun was obsessed with the monk. So she used to come to the monk and gazed at him with great passionate attraction. On account of her continuous stares, the monk too, began to feel uneasy. He was attracted towards her and started seeing her with deep attachment. He could not help reciprocating his feelings for her.
One day, another monk caught them red handed. He inquired of them, "Are you both attached to one another? Do you like each other?" But both of them denied straight away. Even though they had tolerated so many hardships of monkhood but only due to the feeling of attachment they went to hell after death.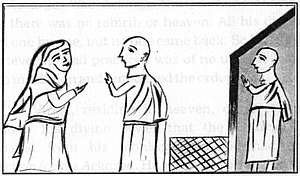 The monk and the nun gazing at each other and another monk caught them red handed.
Beauty in flesh is a delusion. It allures people, their vision becomes blurred and thinking becomes perplexed. They cannot visualize things in their true dimensions and ultimately these attractions mar their life. It is imperative to strike a balance between our emotions and passions. Regulation of the sense becomes important for every person.