Once upon a time, there lived a merchant who along with his friends, decided to go abroad to earn a fortune. Before leaving, he gave essential instructions to his wife. He said, "During my absence, take care of my business. Pay special attention to the workers and see to it that they work in order."
The merchant went away but his wife neither took interest in the business nor did she pay the workers in time. On the contrary, she spent her time in luxurious activities, which led to the downfall of the whole business. When the merchant returned, he was furious on seeing the ruined state of the business. He rebuked his wife and turned her out of the house.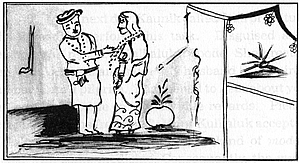 The merchant doing the second marriage.
Soon the merchant remarried. His second wife was clever and alert. Once again, the merchant went abroad for some business and before leaving, he gave her the instructions to look after his business carefully. This girl took keen interest in the business and proved to be a genius. She paid the workers in time and at the same time, took proper care of the house. The workers were happy and satisfied with her behavior and due to this, the workers worked well and the business too flourished. When the merchant returned, he was overjoyed to see the work of his second wife. Finally, he entrusted the whole responsibility of the house to her.
One who is careful achieves success and the one who is careless loses all.