Puniya, a religious devotee of Mahavir lived in Rajgriha. He led a very religious life, was very moral, but not very rich. He was satisfied with his life as it was going.
Puniya used to perform a "Samayik" daily. He was always in state of equanimity. Even Lord Mahavir was very much impressed by him and used to tell about his stringent behavior in his religious discourse.
One day, King Shrenik came to know, it was decided that he had to spend his next life in hell. He became very disturbed. To get its solution, he went to Lord Mahavir and asked, "Tell me, how can I change my life of a hell." Lord Mahavir knew in his heart that it cannot be changed. On the contrary to satisfy the King Shrenik, he replied, "Shrenik, there is just one solution that can prevent you from going to hell, that is, if you are able to buy only one Samayik of Puniya." Hearing that the King was very happy as he thought it was very easy to buy a single Samayik from Puniya.
Coming to the decision, next day in the morning, the king went to the house of Puniya. Puniya was very much pleased at seeing the king himself coming to his house. And a constant thought came to his mind that why the king had come to his house. It must be something very important and urgent.
After some preliminaries, the king came directly to the point and asked him, "Puniya, do you practice Samayik daily?"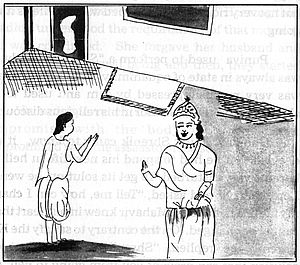 King Shrenik requesting Puniya to give him one Samayik from his life.
"You don't have to worry and feel scared, as I will not snatch it, I will pay you a reasonable amount for it." Being satisfied, Puniya told, "Whatever is mine, is because of you only and it will be a great opportunity for me to serve any of your purpose. But it is just not possible to decide about its cost as it is a matter of spirituality which is worthless. You have to consult Lord Mahavir for this, other than him nobody else can decide." Hearing that the king went straight to Lord Mahavir for consultation over the matter. Reaching Mahavir's congregation, the king narrated the whole story and said, "You are my savior and how much price should I pay to him for a Samayik?"
Listening to the king's problem, the Lord smiled for a moment and said, "I knew this from the very beginning that Samayik cannot be bought but just to satisfy you I told this, as the actual price of just one Samayik is much more than all your property or Kingdom. The king said, "Then, may I accept the fact that to go to hell is my destiny?" and he realized the truth.