Long ago, there lived a merchant's son, Kurudatta, in the city named Hastinapura. He accepted initiation from a well-versed Acharya, who first examined the potentiality of Kurudatta and then imparted the deep knowledge of several Agamas to him. Due to his polite and decent behavior, Kurudatta earned vast knowledge and became an erudite monk. Later on, after seeking his Acharaya's permission, he accepted the Ekal-vihar Pratima and proceeded towards a town named Saket. It was almost the fourth prahara of the day, when he reached the outskirts of the town. Now, according to his vows, he couldn't go anywhere, so he just stopped there and stood firm in Kayotsarga. There was a crematorium in the immediate vicinity, where some dead bodies were still in the process of burning.
At that time, a gang of thieves passed that way, after having stolen cows from a nearby village and these thieves were being chased by a group of men. The muni happened to stand at the junction of the two roads leading to two different villages.
The folk saw the muni and asked him as to which road the thieves had gone. The muni didn't reply. Infuriated by his silence the angry folk tied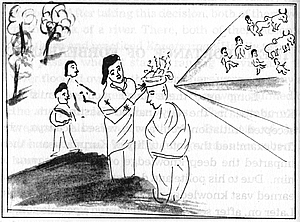 The angry folk tying the monk's head with a wet leather band and placing burning coals on the head and the thieves going away with the stolen cows.
the monk's head with a wet leather band and placed burning coals on it and went away. But the muni did not move at all. Instead he thought, "I should consider this as a golden opportunity. To prove tolerance of such pain, when you are independent and capable of protecting yourself, is possible in this human birth."
Thus, thinking so, he remained still and attained salvation.