There are twenty-four Tirthankars in the history of Jain tradition. Lord Rishabh was the first one. He performed hard penance and finally, achieved the Keval Gyaan. After attaining Keval Gyaan, he decided to visit different places and spread the message of peace and truth.
Once, when he was delivering his sermon in Bharat's kingdom, thousands of people gathered there to listen to him. Among them was LordRishabh's eldest son, Bharat. While delivering the sermon, LordRishabh declared that: -
• I am the first Tirthankar in this descending era.
• Marudeva, my mother, will definitely achieve emancipation in this birth itself.
• Bharat, my son, will be a Chakrawarti during his rule and will achieve emancipation later.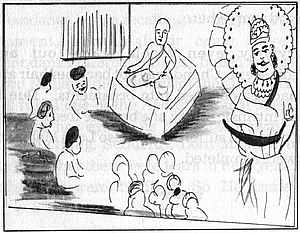 Lord Rishabh delivering his sermon and Bharat pondering on the statement
The crowd doubted the truth of these declarations and found hard to believe it. However, one of them gathered enough courage to proclaim his doubts and said to Lord Rishabh, "It is intelligible as well as digestible that you are the first Tirthankar and Marudeva, your mother, the first soul to attain emancipation. But, how is it possible for your eldest son Bharat, to be a Chakrawarti first and then achieve emancipation later." Bharat, who heard this statement very carefully, remained very calm. Suddenly, a light flashed in his mind and he hit upon a plan. The very next day, he invited that particular person to his palace. In order to make him understand the truth, he ordered him to walk all around the town with a bowl filled with oil. He, then, said to the man, "If even a single drop of oil falls on the ground, you will be hanged to death there and then itself."
To distract his attention, the whole town was brilliantly illuminated with sparkling lamps. Colored candles were fitted into glass globes of various type and bulbs of different kinds and shapes were used. The whole kingdom was lighted from top to bottom with bright rows of lights. Besides, people also used flowers and glitters to enhance the decoration. At a distance of every fifty meters, many dance shows, magic shows, musical shows, circus shows and fairs were organized. The whole kingdom presented a grand and fascinating appearance and the scene intoxicated people with excitement, like a drink of wine. The entire scene was very exhilarating.
All this really disturbed and frightened the man with the bowl filled with oil. But anyhow, as per the king's order, he took the bowl in his hands and started walking around the town. While walking through the city, he could only see death coming towards him. To prevent the falling of oil, he concentrated only upon his bowl and the oil in it. He did not even once look up to admire the grand and festive look of the town. Finally, he returned to the king's palace happily without spilling even a drop of oil. Bharat asked him, "What did you see in the town? Did you notice the grandeur and festivity around yourself?" The man said to the king, "I saw nothing besides death." Then Bharat further said, "Did you not enjoy the dance, drama, music, circus or fairs?" The man gave a negative reply.
Bharat felt very happy and satisfied with the success of his plan. He, then, explained to the man, "Just as the fear of death made you alert and concentrate only on the task entrusted to you and so, you performed it carefully and effectively. In the same manner, I am also conscious of the long tradition of death. Although, I am a Chakrawarti, I am not attached to my property, power and worldly desires." The man understood what Bharat had tried to convey to him. He repented and after asking for forgiveness, went away
The virtue of detachment was unique in Bharat. He spent a long period of time, taking care of the administration of his kingdom. One day, Bharat entered his room and dressed up carefully, adorning his body with his luxurious, glittering and royal clothes and unique precious jewelry. He, then, entered the Adarshagrih (a room made up of mirrors) and admired the beauty of the clothes and ornaments. He sat on his throne and facing the East, started admiring his beauty in the mirror with great concentration and devotion. He felt delighted and relaxed at the reflection of his physical beauty.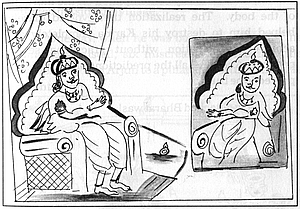 Bharat admiring his beauty in the mirror, when suddenly one ring falls down & he realizes the fact
Meanwhile, a ring from one of his fingers slipped off and fell on the ground. He was so engrossed in admiring his body that he did not notice it. But suddenly, he noticed his empty finger and felt that it looked ugly. At once, he realized the fact that it was the small ring, which made him ugly. That means if all the ornaments were removed from his body, he would become unattractive and ugly. So, he began removing his ornaments and the glittering royal clothes, one by one and found that his body was quite ugly and unpleasant. He said to himself, "This means, people only praise and admire me because they are impressed by my outer beauty which is visible to them and due to the outer glittering effect they cannot perceive the inner beauty of my body and soul." Bharat, then seriously contemplated on the mortality of the body. The realization that evolved thereby helped him to destroy his Karma completely and achieve emancipation without practicing severe penance. And thus, all the predictions of Lord Rishbh proved to be true.
How detached Bharat was!