Once upon a time, there were four brothers. Their names were Vasudeva, Baldeva, Satyka and Daaruk. They decided to go for horse riding in a forest. Their horses were very swift so they reached there by dusk. Except Daaruk, all went to sleep under the shade of a huge tree. Suddenly 'Anger' came in the form of a Demon and said, "I am hungry and these three sleeping men will satisfy my hunger." Daaruk fought against the Demon 'Anger' but he was unsuccessful in controlling it. This made Daaruk furious and on the other hand, the demon was also burning with angen At the end of the first prahara, the demon killed Daaruk.
Satyka lost his life in the second prahara and
Baldev also lay lifeless at the end of the third prahara. Throughout the fight, the demon proved to have an upper hand. He showed that he was stronger than the three, whom he had killed.
During the fourth prahara, Vasudeva woke up. The demon challenged Vasudeva to fight with him. When both started fighting with each other, the demon showed his powerful skills but Vasudeva intelligently remarked, "How powerful you are! Your strength is endless like an ocean." As the demon heard these words, his anger began to subside and at the end of the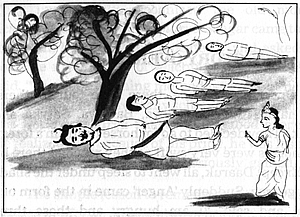 All the three brothers and 'Anger' disguised as demon lay dead and Vasudeva realizing that he had won over it.
fourth prahara, the demon became powerless. Vasudeva, then picked him up and threw him aside.
When the dawn broke out, Vasudeva saw that his three brothers had been killed by the demon 'Anger'. It was then that Vasudeva realized that 'Anger' disguised in the form of a demon had fought with him and unlike his brothers, he had won over 'it' by the virtue of peace and forbearance.