About two thousand five hundred years ago, Lord Mahavir was in the city of Koshambi. At that time, King Shatanik was ruling over the city and Mrigavati was his queen.
Once, when Lord Mahavir was engaged in penance, he took some vows as conditions for his paarana. The vows were as follows: -
He would accept alms only from that maid who had been a princess earlier, whose hands and legs will be shackled in chains, the hair on her head shaven off, her eyes full of tears and she should have been fasting for three days.
While giving alms, she should have one foot outside the threshold and one within.
The eatable item should be in the form of pulses, kept in a sifter.
Lord Mahavir said, "Unless and until all these conditions are fulfilled, I shall not do paarana."
One day, Lord Mahavir went to his devotee Nanda's house to take alms but didn't, as Nanda's wife failed to fulfil his Abhigrahas. Although she pleaded Lord Mahavir to accept the alms but he did not. Lord Mahavir went away without accepting the alms and this made her upset. When her husband came home, she told him about the incident. Meanwhile, a maidservant of Queen Mrigavati, who happened to be nearby, heard about Lord Mahavir's Abhigrahas while it was being narrated to Nanda by his wife. This maid at once passed on this information to Queen Mrigavati, who was shocked to hear it. The queen later explained the whole thing to the king. The king ordered to find out about Mahavir's Abhigrahas. But alas! No one could succeed, no matter how much they tried. Lord Mahavir had to wander about in search of such person who could fulfill his Abhigrahas.
On the other hand, a city, Champa, ruled by the king named Dadhivahan, was attacked by the enemy king of Koshambi, named Shatanik. Within a night, the whole kingdom was surrounded by the enemy troops and Dadhivahan fled away from Champa, leaving behind his queen and his only daughter. While looting, one of the soldiers took Queen Dharini and her daughter under his custody. The soldier planned to marry Dharini and sell away the princess. Dharini was terrified as she came to know about the soldier's intentions that baffled her and she expired on the spot.
The soldier regretted having exposed his thoughts to the queen but still his mind was full of greed. He thought, "Now, I will not say anything to the princess, for she too, might die like her mother and I will be deprived of the money that I can get by Selling her." So he behaved very gently with the princess. One day, he took her to the market where slaves were being sold. Dhanaavah, a merchant, was passing by. He saw the princess who looked very beautiful, even without any ornaments. He felt that she must have been belonging to some royal family and now facing a great misfortune. Being a good and kindhearted man, he at once, paid the amount demanded by the soldier and took away the princess. On the way home, merchant asked the princess, "Who are you?" She remained silent. They reached home and he introduced her to his wife Moola, that he had brought a daughter for her.
The Princess began to live there comfortably. The whole family was impressed with her polite behavior. Everyone praised her and said that she was as cool and calm as sandal (Chandan). Due to which she was named 'Chandanaa'.
As time passed, everyone respected Chandanaa. But Moola did not like this. She became jealous of Chandanaa. She doubted Dhanaavah's intentions and thought that one-day he would marry Chandanaa and make her mistress of this house.
One day, when Dhanaavah came home in the afternoon. He saw that there was no servant present to wash his feet. Chandanaa noticed this. So she brought a pot filled with water to wash Dhanaavah's feet.
Dhanaavah tried to stop her but she insisted on doing it. While washing his feet, her lovely long black hair got untied. Dhanaavah thought that her hair would get dirty, so he tried to put them in order.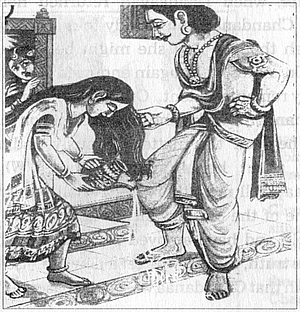 Chandanaa washing up Dhanaavah's feet while her long black hair got untied and he is trying to put them in order
Moola was watching all this from her window. This added fuel to her doubts. She felt very insecure with the feeling that Dhanaavah might marry that girl. Thinking that, prevention is better than cure, she said to herself, "I should do something before it is too late."
One day, when Dhanaavah went out, Moola called a hairdresser and made him cut Chandanaa's hair. Then, Chandanaa's hands and feet were shackled and she was beaten up badly Moola threatened her servants by saying, "If any one of you will say a single word to Dhanaavah, you will be fired from your job." The poor servants became frightened and so remained silent. Finally, Chandanaa was locked up in the basement.
Later, when Dhanaavah returned home, he asked for Chandanaa but nobody told him anything. Dhanaavah thought that she might be engaged in some work. At night, he again enquired about her but everybody remained silent. On the second day, he did not see Chandanaa. When he didn't see her on the third day too, he took the matter seriously and started inquiring about her from everybody, "Where is Chandanaa? Tell me, otherwise, I shall punish all of you." One of the old servant thought, "Now, I have become old and have enjoyed my life enough. If I speak the truth, the girl will get a new life." So he told Dhanaavah that Chandanaa was in the basement.
Dhanaavah opened the door of the basement and saw Chandanaa in pain due to thirst and hunger. He immediately went to the kitchen to get some food. He could find nothing except some stale boiled pulses. He brought them and gave it to Chandanaa. Then, he went to call a blacksmith to get her unshackled.
Sitting in the middle of the threshold, Chandanaa began recalling all the past events. At that moment, Lord Mahavir came there for alms. Chandanaa offered Him the boiled pulses in a sifter. Lord Mahavir did not accept the alms because she did not fulfill one of the Abhigrahs, that she should have tears in her eyes. As he walked away, Chandanaa started crying. Suddenly, Lord Mahavir turned back and saw that there were tears in her eyes. Now all the Abhigrahs were fulfilled. So He came back and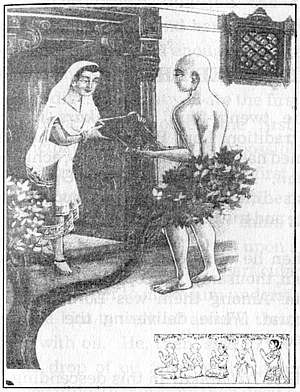 Lord Mahavir saw that all the Abhigrahs were fulfilled by Chandanaa's situation and came back ior accepting the alms from Chandanaa
accepted the alms from her. Watching all this, even the gods from heaven were pleased and rained fragrant water, fragrant flowers and diamonds. Divine music could be heard everywhere.
Everybody, even Moola, came out and witnessed this scene. Chandanaa got back her hair and her iron shackles changed into ornaments. Due to Chandanaa's intrinsic purity, she became free from the shackles of pain and suffering and also Lord Mahavir's 'Abhigrahs were completed.