There was once a woodcutter, who lived happily in Rajgriha with his small family. He had great faith in Lord Mahavir and followed the principles of his preaching very sincerely One day, Lord Mahavir visited Rajgriha and the woodcutter got a golden opportunity to see him. Impressed by the divine lecture of the Lord, he desired to free himself from the momentary pleasures of the world. Therefore, he chose the path of renunciation and was initiated into the group of Lord Mahavir's disciples.
Once, the woodcutter, after his initiation happened to pass by the palace. Abhaykumar, son of King Shrenik saw him and bowed to him.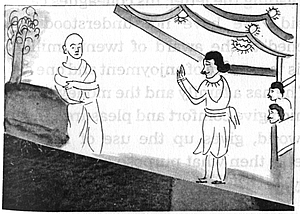 Abhaykumar paying homage to the woodcutter and this surprised his colleagues.
Once, the woodcutter, after his initiation happened to pass by the palace. Abhaykumar, son of King Shrenik saw him and bowed to him.
Abhaykumar's colleagues in the cabinet were surprised and questioned him as to why he was showing such reverence to a mere woodcutter. They said to him, "Do you know that the person before whom you have bowed in such reverence, was a woodcutter earlier?"
Abhaykumar replied that he was aware of that and he had also attended the initiation ceremony of the woodcutter. "Then, why did you bow before him?", was their next question. Abhaykumar said, "Bhagwan Mahavir has given a lot of importance to renunciation and the woodcutter has given up everything." The colleagues further asked, "What did the poor woodcutter possess that he could trouble to give up?"Abhaykumar did not reply to this question immediately. The next day, he wrote a letter to his colleagues asking them if they were ready to lead a life of celibacy and purity and also to give up the use of fire. Anyone who fulfilled these conditions would be awarded twenty million Rupees each, from the state treasury. After reading the letter, his colleagues came to him and said, "We have not understood the conditions attached to the award of twenty million Rupees. Money is the source of enjoyment and one can only enjoy life if he has a family and the money to buy the materials which give comfort and pleasure. If one renounces the world, gives up the use of fire and becomes an ascetic, then what purpose can this huge amount of money serve?"
At this point, Abhaykumar said, "Now listen to what the woodcutter gave up.
Remember, money alone is not the source of enjoyment. The woodcutter too had a wife, children, house, and friends and belonged to a certain section of the society. He left his wife and children, broke away from his relations and accepted the very disciplined life of an ascetic. He gave up the attachment of lots of money and pleasures and preferred begging instead. This is how, he has made a great sacrifice and that is why, I respect him and bowed before him."
The colleagues had nothing more to say or argue about. They realized the significance of renunciation.