Long, long ago, there lived a mighty emperor named Manirath in the town of Sudharshana, which was situated in Avanti. He had a younger brother, Prince Yugabahu, who was married to an extremely beautiful lady, called Madanrekha. One day, when Manirath was strolling in the corridors, he chanced to look out into the garden. He saw Madanrekha accompanied by her friends watering the plants,. The sight of her beautiful body took him aback. The lust to possess her at any cost, arose in him. He became so overwhelmed by his desire for her that his reasoning power failed to make him aware of the fact that she was his younger brother's wife.
He started sending her valuable gifts, like precious ornaments and luxurious clothes to lure her attention towards him. Madanrekha accepted all the gift, innocently, thinking that her respectable elder brother-in-law sent it to her. She was absolutely unaware of King Manirath's wicked intentions. On the other hand, the king thought she was reciprocating positively as she had accepted all the gifts sent by him. He misunderstood her silence and thought that she too was as deeply in love with him as he was with her. One day, Yugabahu went out of town for hunting and was supposed to come back in a week's time. This gave Manirath a wonderful opportunity to send her a message through a stewardess. The message was, "I love you so much that I am ready to bestow all my property and kingdom at your feet. Yugabahu cannot provide you with all the happiness that power, money and a kingdom can bring to your feet. This is something, which only I can give you. You can achieve this blessing if only you consent to become my queen."
Madanrekha was stunned, when she got this message about the implications of King Manirath's selfish and heinous feelings. She then, said to the stewardess, "How dare you utter such insensible words? If you dare to repeat them in the future, your tongue shall be chopped off. Go and convey my message to Manirath, that no worldly pleasures, no kingdom and nothing in this universe can deflect me from my vow of celibacy. You are an emperor and this kind of behavior does not suit you. I feel that even looking at a man like you is a great sin."
When the stewardess narrated the whole incident to King Manirath, he was perplexed and became furious. He thought, "As long as, Yugabahu is alive, I cannot possess her and therefore, I should try to remove him from my way." Thus, he began to make a plan that would ultimately lead to his brother's death.
The opportunity he desired, came eighteen days after this event. One day, Yugabahu and his wife were sitting in the garden and enjoying the pleasant weather. After sometime, Madanrekha got up to collect flowers from the garden to make a garland leaving Yugabahu relaxing all alone. Manirath was watching this scene from the bushes behind. He thought that this was a golden opportunity to kill his brother, who was relaxing alone in a solitary place. Taking advantage of the situation, he struck him with his sword from behind. As a result, Yugabahu fell down wounded and Manirath fled away immediately. But who can escape the justice of the nature. While he was on his way home Manirath was bitten by a snake and fell dead. He died on the spot and went to hell.
When Madanrekha came back after gathering flowers, she noticed her husband's body lying motionless on the ground, drenched in blood, taking his last breaths.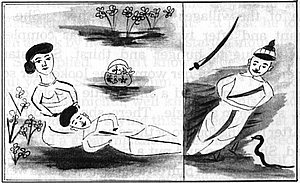 Madanrekha requesting Yugabahu to detach himself from her and worldly pleasures, while on the other side, Maniratha also fell dead
At first, she lost her balance of mind, unable to accept this harsh reality. She became still for a few moments, but quickly consoled and controlled herself, for she realized that the call of the hour was to act and not to sit in despair. She put Yugabahu's head on her lap and requested him not to harbor any ill feelings towards his brother and also to detach himself from her and all worldly desires at this last hour. Listening to her words, he became calm and quiet and peacefully left for his heavenly abode.
Now, Madanrekha pondered for a while, thinking, "It is not safe for me to stay here any longer. Maniratha can assault me physically, hence it is better to leave this place at once." So, she just left the place without any plan about her destination. Actually, she had no knowledge of the fact that Maniratha, too, had died. She walked mile after mile, passing through many villages, but did not halt at any village as the people of the villages recognized her. She was pregnant and after two days, she was completely exhausted due to hunger and thirst. She started experiencing pain in her womb. She looked for some shelter and soon, found a small little empty cottage near a stream in a jungle. There, she gave birth to a boy. After resting for two or three hours, she felt a little relaxed. She got up and put a ring round the infant's finger. Then, she laid him on a soft, big leaf and went to the river to drink some water and quench her thirst. Suddenly, she saw a mad elephant coming towards her, but she could not move or do any thing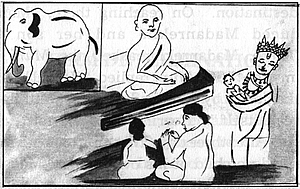 The mad elephant going away and Maniprabha introducing Madanrekha to the muni & the king taking away the son
due to fear and shock. The elephant came up to her and caught her in its trunk and hurled her up in the sky. She screamed for help but, no one was there to help her.
At that moment, a Vidhyadhar called Maniprabha was flying in the sky. He saw Madanrekha screaming for help and her newly born baby crying alone in the cottage. He came down and rescued Madanrekha from the elephant. At first, he too, was taken aback by her beauty and started inquiring about her. She replied, "I don't know my destination. What about you?" She asked him. He said, " I am going to visit Monk Manichur, well known for his Gyaan and Saadhanaa." On saying this, he realized that he had committed a great mistake in getting attracted to the beauty of this lady while he was going to visit a great Muni. He got rid of his evil tendencies and began regarding Madanrekha as his sister. Then, Madanrekha also decided to visit Muni Manichur with her son and all of them started moving towards their final destination. On reaching there, Maniprabh introduced Madanrekha and her son to the Muni.There, Madanrekha asked the Muni, "What about my son?" The Muni replied, "He will be adopted and taken away by King Padmarath of Mithila within this week itself." Hearing this, she felt calm and peaceful. After three days, that king took her son away for he had no child of his own. Then, Madanrekha wanted to be free from all worldly desires and pleasures and accepted initiation. And at last, her desire was fulfilled.