Long ago, there lived a king who was very proud of himself. He, however, realized that this was an obstacle that had to be overcome. So, one day he went to his Guru and said, "Gurudev, my pride is a very big obstacle in the path of spiritual practice. Please tell me a way to get rid of it". The Guru replied, "O King! It is very difficult to get rid of pride."
The king did not loose heart and requested his Guru to guide him. So finally, the Guru said, "Go out and collect alms from each and every house of your city for seven days and survive on that food." The king was surprised at this advice. He said,"Gurudev, it will be a very difficult task for me to do so and that too in my own kingdom. Isn't there any other option?" The Guru said, "There is no other alternative for it".
The king decided to follow the advice and went out with a bowl in his hands to beg alms in his own kingdom. The people were shocked as well as startled to see the king. The king tolerated the reactions of the people with calmness. And the king realized that begging was not an easy task. One can bow before others only when he has no pride.
At the end of the seventh day, the king went to his Guru and said, "Gurudev, I have realized that my pride was false and baseless. I am very thankful to you for guiding me and relieving me from this vice".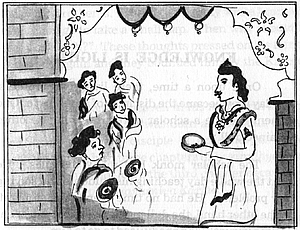 The king collecting alms from each and every house of the city and people watching him.