About two thousand five hundred years ago, Aacharya Bhadrabahu was spending his Chaturmaas along with his disciples in a city named Rajgriha. One day, four friends came to the Aacharya and requested him to make them his disciples. Later on, they became ascetics and started practicing Ekal-vihar Pratima, a special kind of penance.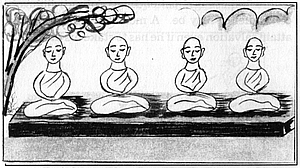 All the four monks are attaining salvation.
On a cold day, the four monks had to go out to get alms. It was the third prahar of the day. Each of them started off in a different direction. The fourth prahar started but no one was able to return to their abode in time. According to the rules of Ekal-vihar Pratima,an ascetic could not move after the fourth prahar starts. Therefore, the first monk who had reached near the mouth of a cave, stopped and stood right there, the second was in a city garden, the third had reached the outskirts of a garden and the fourth one was outside the city. None of them budged from their places and absorbed themselves in Kayotsarg. It was an extremely chilly night with stormy winds blowing all around them. But the monks did not loose their composure and one by one, they lost their lives.
The question that arises is, 'why didn't the monks try to save their lives by reaching for shelter.' The answer is that, one of the basic principles of Aagams is that a monk has to tolerate every situation with calmness and patience, accepting whatever the consequence may be. A monk's main objective is to attain salvation even if he has to stake his life.