Stephen Covey, author of 'The Seven Habits of Highly Effective People7 details negotiating mutually beneficial scenarios where both sides stand to benefit as a key to being successful. These ideas are seemingly modern and yet Acharya Tulsi was exemplifying them in the 1930s.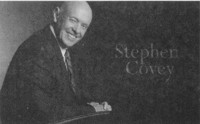 An example of his skill to negotiate for win/win came after a successful stay in Bikaner. Acharya Tulsi and his entourages were making preparations to leave Lai Kothi, but unexpectedly a potential problem arose. A large procession of the Sthanakwasi (another Jain sect) led by Yuvacharya Ganeshlalji Maharaj was planning to leave Bikaner on the same day. It was important that both processions did not occupy the main thoroughfare at same time because they would encumber one another. Acharya Tulsi was assured that his procession would not coincide with the Sthanakwasi march and he set out confidently that there would be calm and order in the streets.
Acharya Tulsi left Lai Kothi at the predetermined time with a huge gathering. As they approached the main street, Acharya Tulsi's group was astonished to see the other procession led by Yuvacharya Ganeshlalji. The street was much too narrow to accommodate both processions moving in opposite directions. Who would be the first group to change their course? This complex situation had the potential to erupt into major chaos. There was no time to sit down and work out a solution.
In the midst of this delicate and complex situation, the 23 year old Acharya Tulsi made a decisive move. He changed his course towards Rangdi Chowk and the thousands of people following him did the same. The road for the other procession was cleared. The Sthanakwasi followers moved ahead with a hint of triumph in their eyes.
Ishwarchand Chopra, a prominent follower, approached Acharya Shree and asked, "Why did you change the path for us? Our time was already decided ahead of their decision. We even asked them for their time and route. They purposely attempted to create some chaos. You left the street and they now consider your kindness as our weakness."
Acharya Tulsi replied, "The question is not of weakness or strength, it concerns the prestige of our Jain religion. If I wouldn't have turned, it would have given rise to mayhem/' Ishwarchand listened to this explanation but still his heart was not at peace. However, what he heard shortly thereafter made everything right.
There is an upaharya - a religious place where followers of Murtipujak and Sthanakwasi Jain sects witnessed the entire situation. Some of the onlookers said, "Despite the youth of Acharya Tulsi, his wisdom and judgment demonstrated in a tense situation is commendable. Had he not been able to think on his feet and change the direction of his procession, a battle would certainly have begun."
The incident reached the ears of King Gangasinghji of Bikaner. He said to his minister Mandhata Singhji, "Today our respected Acharya Tulsi has elevated the dignity of our city. He is young of course but he is also judicious." Mandhata Singhji had an intimate friendship with Ishwarchand.
Ishwarchand was thrilled after hearing the praise lavished upon his Guru. His heart was then content. He said to Acharya Shree "Gurudev, your insight has no limits. The whole city is singing your praises. Even the King has noted the wisdom of your decision."
By changing his direction, Acharya Tulsi won the hearts of many and made the Sthanakwasi feel like winners as well.