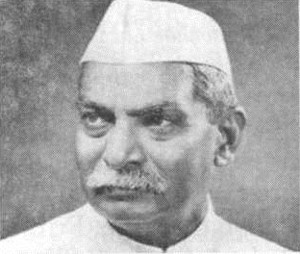 President Dr. Rajendra Prasad was a great Indian philosopher. He had immense faith in religion and spirituality. He wanted to uplift the moral values of Indian people. Having known about Acharya Tulsi and his moral campaign, "Anuvrat Movement", Dr. Rajendra Prasad found a potential for its application for the welfare of humanity. He wished to promulgate this movement throughout the country. He felt it essential for Pt. Jawaharlal Nehru and Acharya Tulsi to meet.
In 1950, during a conversation with Acharya Tulsi, Dr. Prasad asked whether he had ever met Jawaharlal Nehru. Acharya Tulsi responded that no such introduction had been made. He added that it was known that Nehru had no interest in religion or in finding a religious guru. No initiative had been taken for any meeting by either party.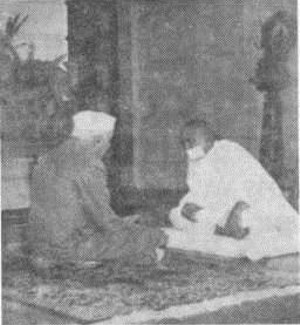 The President felt that this was a misconception about Pt. Nehru who in fact was a man of deep thought and great vision. He felt that once the Anuvrat Movement was explained to him, Nehru would propagate the movement throughout the country. On his part he agreed to confirm a meeting by writing to Pt. Nehru.
A letter to the Prime Minister introducing Acharya Tulsi:
Dear Prime Minister,

Acharya Tulsi is in Delhi. It will be beneficial and in favor of our country for you to meet him. Kindly consider this matter.
Dr Rajendra Prasad
President
The Prime Minister's reply:
Dear President,

I will be delighted to meet Acharya Tulsi, but I am presently occupied. I will be blessed and honored if Acharyaji can visit me at the Prime Minister's house.

Jawahar Lai Nehru
Prime Minister
Hence, Chakradhara Babu, P.A. of the president went to Naya Bazar where Acharya Tulsi was residing. Chakradhara Babu narrated the entire conversation and informed Acharya Tulsi that the Prime Minister wanted to meet him at 7 pm on that day. Acharya Shree replied "We walk on foot. During our journey, we visit many towns and villages. During our trip we can visit the Prime Minister's house. It will be difficult for us to have a meeting at the scheduled time because on that very day Chaturmas is ending and we cannot leave our present residence. Moreover, we do not venture out after dark. Therefore, I would like to have the meeting time rescheduled. "
Chakradhara Babu updated the President about his conversation with Acharya Tulsi. The President made contact with the Prime Minister and rescheduled the meeting. Prime Minister made it clear that Acharya Shree Tulsi was welcome to visit at his convenience. The meeting was rescheduled for the day after Chaturmas during daytime at 2.30 p.m.
Acharya Tulsi along with several monks arrived at the residence of the Prime Minister, where Mr. Madanlal, secretary to the Prime Minister Nehru, extended a warm welcome to them.
Mr. Madanlal asked Acharya Tulsi and his group to make themselves comfortable. Shortly thereafter, the Prime Minister Nehru entered the room with a smile on his face. He greeted Acharya Tulsi humbly with folded hands and took his seat next to Acharya Tulsi. Silence prevailed for few minutes as Acharya Tulsi pondered how to begin the conversation. It was his first opportunity to meet a prime minister. Conversely, this was the first chance for Pt. Nehru to meet a prominent religious leader. Pt. Nehru broke the silence by asking Acharya Shree what motivated him to initiate a meeting. Acharya Tulsi spoke of Rajendra Babu, who urged him to present Anuvrat to the Prime Minister. He explained his vision for the Anuvrat Movement to promote the moral development of people in detail. He underscored the contemporary issues: that India had just attained her independence and the possibility of diminishing moral values was obvious. He impressed upon the Prime Minister that the Terapanth sect included more than five hundred monks and nuns who were focused solely on uplifting human values, a spiritual army that Nehru could count on.
Pt. Nehru was impressed by this mission and he continued to converse with Acharya Tulsi for almost an hour. He was highly impressed by Anuvrat, vowed to become more deeply acquainted with it and ensured that Gulzarilal Nandaji, one of his trusted deputies would stay in touch with Acharya Tulsi.
In 1956, on the 8th of December, five years after his initial meeting with the Prime Minister, Acharya Tulsi visited Delhi again. He made his second visit to Prime Minister Pt. Nehru at his residence. Acharya Tulsi reiterated his desire to involve him with the Anuvrat Movement.

Acharya Tulsi said, "I am in Delhi for a few days and I want to discuss with you certain issues. Everybody knows of your endeavors and those of Mahatma Gandhi in securing the freedom of India. Now that we have attained freedom, we need to elevate the morality of our countrymen, which is gradually eroding. You should not ignore it."

Pt. Nehru replied, "Yes, I do agree. You are absolutely right. But what can we do?"

Acharya Tulsi offered, "Through small resolutions and determinations, the lifestyle of the common people can be uplifted. We are making our effort to promote morality through the Anuvrat Movement. Five years ago, I met you, and explained the principles of Anuvrat. You listened very intently and expressed your interest, but I could not get any support from you. You should know that the support I need is not financial, nor do I want to turn Anuvrat into a political movement."

Pt. Nehru paused for a moment and said, "I know very Well that neither you need money nor you want to relate your movement with political world. As you know, I am a politician. What help can I offer to you?"

Acharya Tulsi replied "You are a politician and an independent thinker as well. Why are you silent on this issue? Do you think that this movement is sectarian? Is our dress-code and the piece of cloth (muhpatti) tied up on our mouth an impediment?"

Mr. Nehru responded, "Acharyaji! I assure you that I am not swayed by these external things. I believe Anuvrat is positive and also non-sectarian. I could not lend my support due to my work. Every day I receive thousands of letters, and come into contact with thousands of people and their demands.

Acharya Tulsi - "I know that your business keeps you in demand. I think that only a busy man possesses energy to do extra-ordinary work. In the same way as your other work, shouldn't Anuvrat also be included on your list?"

Pt. Nehru agreed, "Yes Acharyaji, I will focus on it for sure."
During their conversation Nehruji mentioned 'Bharat Sadhu Samaj." He wanted Acharya Tulsi to work with that group.
Acharya Tulsi - "In our last meeting we also discussed this matter. But regarding the hermits who live in big 'mathas' (residence) and do not want to give up property, how will it be possible to stay in touch with them considering our situation? We have no money, no mathas, nor any material assets."

Pandit Nehru - "You need not make any relation with them. Do you know Gulzarilal Nanda? He will be very helpful. I also have good terms with him. I will tell him to keep informing me about your activities."
As the result of this conversation Pt. Nehru accepted the invitation to address the inaugurate session of, "Rashtriya Charitra Nirmanmulak Anuvrat Saptah". It was a one week camp or program to build the national character through Anuvrat.
On 13th December 1956, Pt. Nehru arrived at Sapro house to address the public about boosting up the national moral fiber. Here is the extract from his speech.
"Acharya Ji, dear brothers and sisters! Though I am leaving the country tomorrow, I felt it was important to be here. I met with Acharya Shree Tulsi few days ago. He introduced me to the Anuvrat movement. I liked this work therefore I decided to be present at this program.
We have to reach high to achieve our dreams. It is possible only through moral values, not through manmade laws. We should strengthen and deepen our moral roots. The Anuvrat Movement is serving this purpose. More progress of such noble work is valuable and necessary. Therefore, I wish and will assist in working toward the success of the Anuvrat Movement."
He emphasized the importance of Anuvrat and requested the public to follow it.
Anuvrat is a powerful means «to bestow peace on troubled minds, ensure justice in society and elevate the national character. It can be termed as the new concept of universal religion. Really it is a small step for a man but a giant leap for mankind as a whole.