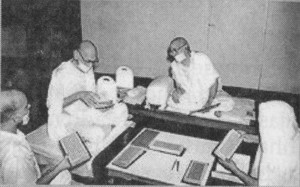 Agamas, the holy scriptures of the Jain religion, are the inspirational and literal sources to learn, understand and follow religious, philosophical and spiritual teachings. About two thousand and five hundred years ago, Lord Mahavira propounded the experienced truth and subsequently the Gandharas (the chief disciples) compiled it. But the Prakrit language of these scriptures turned out to be a barrier for the present generations who wanted to understand the messages. Acharya Shree felt an urgent need to translate these fundamental teachings and put them into the context of modern life.
Acharya Tulsi attempted to organize a meeting with all prominent Jain Acharya's with a view to editing the Agamas, but his efforts did not bear fruit. Without being disheartened, Acharya Tulsi decided to do this work with the help of his disciples. Though, some work had been done by foreign scholars in this field, no Indian Scholar had done any substantial work in this area. In Manchar, a small town of Maharashtra, on the occasion of Mahavira Jayanti Acharya Shree announced the commencement of editing the Jain Agamas. His disciples and followers put their enthusiastic efforts into it, and thus the entire sect was united behind a single, critical project. The editing work was started in 1955 at Ujjain (MP). Muni Nathmal (Acharya Mahapragya) was entrusted the work of editor-in-chief.
Acharya Shree ensured the interpretation and context of his work on the Agamas included a sectarian viewpoint. When the Agama 'Dasvaikalik' was published and it was read by eminent scholars, it had a profound effect on their perspective and their perception of the Terapanth organization. Acharya Tulsi and his team surpassed all expectations and received high praise. The 'Dasvaikalik' with the editing of original text was published from the Sanskrit version, with Hindi translation and critical commentaries. Among the scholars evaluating the reworking of the Agamas were Pandit Sukhlalji, Pt. Hiralalji, Vasudevasharana Agrawal, Pt. Bechardasji, Muni Jin Vijayaji, Chimanlal Chiku Bhai, and Hajari Prasada Dvivedi. Dalsukha Bhai Malavania, an outstanding Jain scholar, after reading the edited version of a Jain Agama, named 'Sutrakritanga', commented that, "it is only Yuvacharya Shree Mahapragya" under the guidance of Acharya Tulsi, who could do this great work." Furthermore, he said, "The work accomplished by Acharya Tulsi in the last forty years could not be done even by government agencies in a hundred years or even after spending millions of rupees."
This achievement was monumental. To achieve an unbiased outcome, Acharya Tulsi had selected an assembly of monks and sadhvis to be involved with this work. An excerpt of his direction to them is as follows:
The editing of the Agamas should be completely authentic. In this work our attitude and perception should be free from the bias of any particular Jain sect If at any point we feel that the fact is far from our beliefs, we may add a footnote, but at a fundamental level the work should be perfect, impartial and genuine. Failure to do so will result in the absence of our true satisfaction and our inability to build credibility with the community of scholars.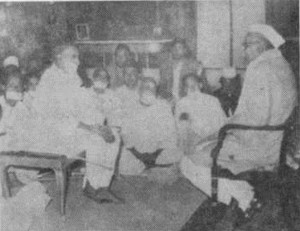 Pt. Sukhlalji expressed his joy by stating, "Your harmonizing outlook cannot be expressed through words alone. You have abundantly projected it through this work."
The work of editing the Agamas has continued for the past five decades. Acharya Tulsi continued this work wherever he traveled, may it be a village, a town or sometimes even under the shelter of a tree. The continuity was never ceased.
Dr. Rajendra Prasad, delighted by Acharya Tulsi's work on the Agamas, asked Acharya Shree, "In which research institution has this task been carried out?"
Acharya Shree replied, "This work is not one in any of the institutions. It is a collective effort of our sadhus and sadhvis despite not staying at one place throughout the year regularly, except during Chaturmas."
The original text of thirty two Agamas has been edited so far. Many, including commentaries and translations have been published to date.
One of the most remarkable achievements in the history of the academic work of Acharya Tulsi is his writing of encyclopedic treatises including Agam vishaykosh, Niryukti kosh and Ekarthak kosh. This tremendous task has been accomplished by a dedicated group of samanis and mumukshu sisters (girls under training of becoming sadhvis) under his guidance. It serves as a wonderful illustration of academic and creative work performed by female members of the sect.