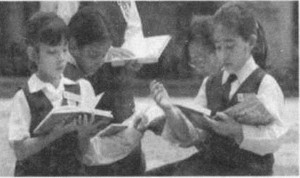 Acharya Tulsi's attitudes and ideas were well ahead of his times. He would always dream on a grand scale. As a dynamic and creative thinker, he proved to be an extra-ordinary educator as well. He directed his focus to the existing educational system and found that the structure of Indian education system was failing. Students are provided with plenty of information but this does not automatically get translated into knowledge. The educational system offers students, who go through the process, an unlimited number of opportunities to secure a livelihood, but it does not instruct on how to live a content and peaceful life. The school system consequently does not develop a comprehensive persona. The main purpose of education should be the development of a balanced personality - the person of value, who is more substantive than the person of material wealth. Unfortunately, this aim has not been attained.
Today, employers are looking for employees with emotional intelligence, a positive attitude and integrity. They look beyond the graduating degree. Their expectation from an educational system is to produce an integrated character. Educators also desire that graduates should become the responsible citizens of tomorrow, and their behavioral patterns and attitudes should be molded positively by education. This hope remains unfulfilled because of the incomplete structure and curriculum within the infrastructure of the educational system.
With these issues in mind, Acharya Tulsi launched an innovative course, Jeevan Vigyan (Science of Living), to create a comprehensive curriculum to develop well balanced individuals. This course was eventually initiated for teachers as well.
The central premise of Jeevan Vigyan is based on four dimensions of an educational system- the physical, the mental, the intellectual and the emotional. Modern education places undue emphasis on physical and intellectual achievements, at the cost of mental and emotional dimensions. Mental and emotional development - are highly neglected, and the oversight is resulting in the deterioration of the moral fabric of society with each generation. It has created an imbalanced brain, resulting in growing societal problems. Consequently, the suicide rate among educated people is inching upward. It is an irony that the logical brain is more adept at storing information, education in society is more widespread, yet the level of conscience is dwindling.