A Bird's Eye-View of Shri 108 Jain Tirthdarshan Bhavan Samavasaran Mahamandir
The Jain religion can boast of grand and magnificent centres of - pilgrimage which bear witness to its glorious past. They symbolise devotion, philanthropy, selfless service, penance and the message of non-violence, non-acquisitiveness, equanimity preached by numerous Sadhus and Sadhvis and other pious souls. There are a number of Jain temples spread across the country and a few in foreign countries. It is not possible for all to visit them and show their devotion for a variety of reasons ranging from physical disability to bad economic conditions. People, therefore, seize the opportunity to visit Shri 108 Jain Tirthdarshan Bhavan and Shri Samavasaran Mahamandir and feel that they have achieved the summum bonum of life.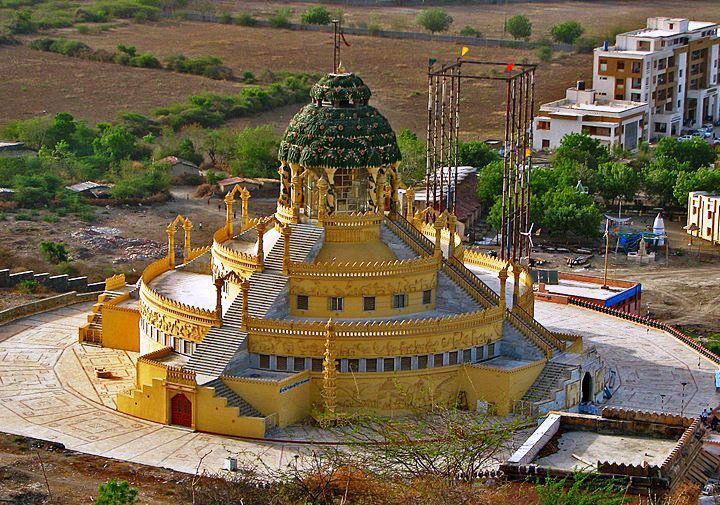 It is situated on the right as one climbs up the holy Shatrunjaya hill. Every Jain, wherever he lives, desires to undertake a pilgrimage to Shri Shatrunjaya Tirth and therefore Shri 108 Jain Tirthdarshan Bhavan has been constructed in Palitana, affording every devotee an opportunity for worship. The inspiration for its construction was provided by Shri Dahyabhai (Kikabhai) Ratanchand Kinariwala of Surat who got Shri 108 Jain Tirthadarshan prepared for Shri Suvidhinath temple. Here one finds on the walls, pictures (size 30" x 30") of mulnayak (main Tirthankar) of the ancient places of pilgrimage. It was inaugurated on Kartak Vad 2, in Vikram Samvat 2024, in the presence of Acharya Shri Vijaykastursurishvaraji Maharaj and Shri Chandrodayvijaygani Maharaj. On the day of his initiation into order (diksha) on Posh Sud 11, Vikram Samvat 2026, an album of 108 Jain centres of pilgrimage was also published which incidentally narrates the history of mulnayak of 108 centres and the Shrine. It was, then, decided in Vikram Samvat 2028, to construct 108 Jain Tirthdarshan Bhavan and Samavasaran Mahamandir in Surendranagar.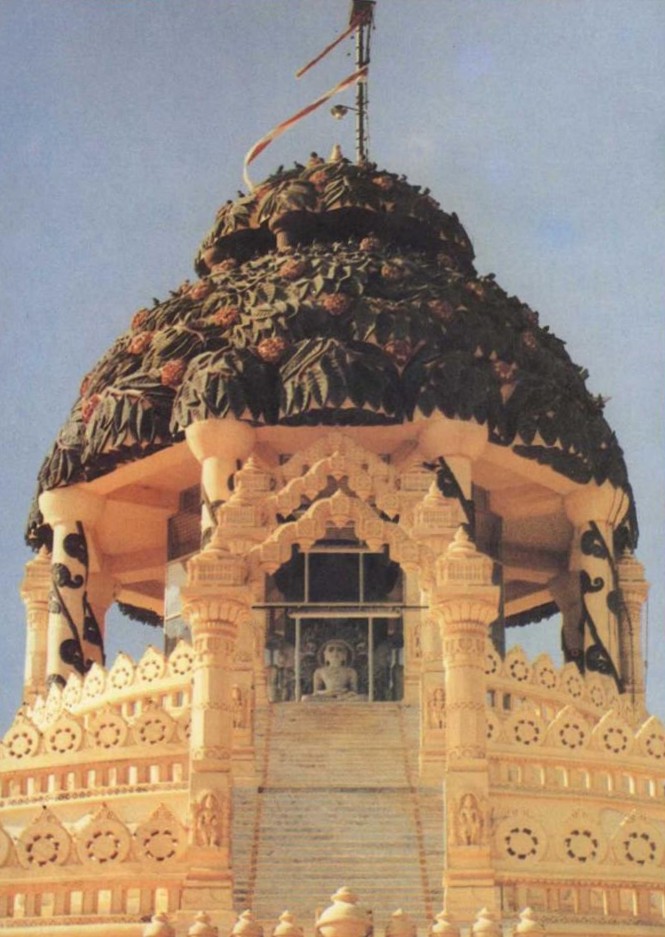 Shri 108 Jain Tirthdarshan and Shri Samavasaran Mahamandir have been constructed, adjoining the Saraswati shrine, on a vast stretch of land. Imagine the Samavasaran in which sat Tirthankar Bhagwan Mahavir Swami 2500 years ago! References about it are found in scriptures and ancient hymns and sculptors and artists have provided a glimpse of the ancient Samavasaran in their works. During the course of his meditation, an idea occurred to Shri Vijay Kastursurishwarji Maharaj to construct Samavasaran which would include 108 places of pilgrimage. As a result, one finds today a confluence of present chovishi, 108 Parshwanathji, 108 tirthpatt and 108 chitrapatt. The task was accomplished under the guidance of Shri Vijay Chandrodaysurishwarji Maharaj and Munishri Kushalchandravijayji, Acharya Shri Vijay Ashokchandrasurisvarji, Acharya Shri Vijaychandrodaysurishwarji, Shri Ajitchandra Vijayji, Shri Vinitchandravijayji, Shri Hrimkarchandravijayji, Shri Pushpachandravijayji, Shri Somchandra Munishri, Amarchandra Munishri, Kailashchandra Munishri, Rajchandra Munishri and a host of their disciples contributed their mite to the gigantic task.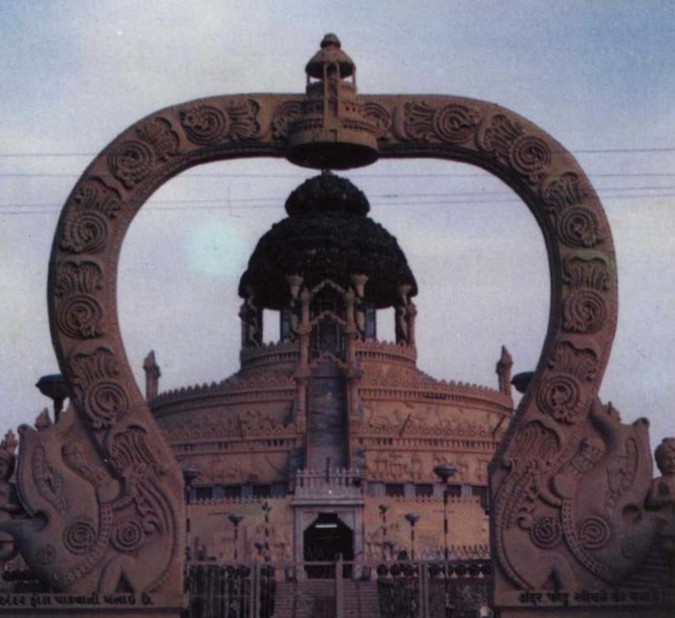 Samavasaran temple comprises 108 Parshvanathji, 108 tirthpatt and 108 chitrapatt and looks very imposing with a height of 108'. As one enters, one comes into Shri Nemi-Vigyan Kastursurishwarji dharma-udyan (a religious park). The entrance is attractive and the beautiful stone carvings add to its charm. On one side is a water-hut and on the other is a lotus-shaped rest house. On the right of the entrance is a unique temple which has been justly acclaimed as a wonderful creation. It gives one a glimpse into the glorious past, the history as it existed. It is rightly called a mahamandir (great temple). Once on the threshold of the temple, one's eyes settle on the imposing idol of Shri Adinath. Then, as one moves on, comes a huge dome and then a tall pillar. The dome is 42' in height and 70' wide, carved out of stone. The pillar - manekstambh - is 42' in height and 16' wide, decorated with lotus petals. In the four directions are the idols of 24 tirthankars and 108 idols of Shri Parshvanath. The devotees, thus, experience heavenly bliss on getting a glimpse of 132 gods. On the marble slabs is found the history of 108 Jinalay and mulnayak Bhagwan, tirthpatt and pictures of 27 sadhus, 27 sadhvis and 27 shravak - 27 shravika who spread the message of piety and sacrifice and the series of pictures unfold the golden past for the devotees.
The volume 'Shri 108 Jain Tirthdarshanavali' describes all the places of pilgrimage in a vivid style and provides useful information to a large number of pilgrims from India and abroad. Exhibitions of the pictures of the places of pilgrimage have been held at various places in the U.S.A. The Duke of Edinburgh, Prince Philip, was presented the portrait of Hemchandracharya and about 35 Jain scholars attended world conference in 1993 in Chicago and were presented with the replica of mahamandir for serving the Jinshasan (Jain order) with utmost devotion. During the convention of Jains Association of North America (JAINA) in Pittsburg, the Jains from America, Canada, England and Africa had a glimpse of these pictures and they all felt very happy. The tirthpatt and chitrapatt will be displayed in the Jinalaya which will be ready in July 1998 in Detroit.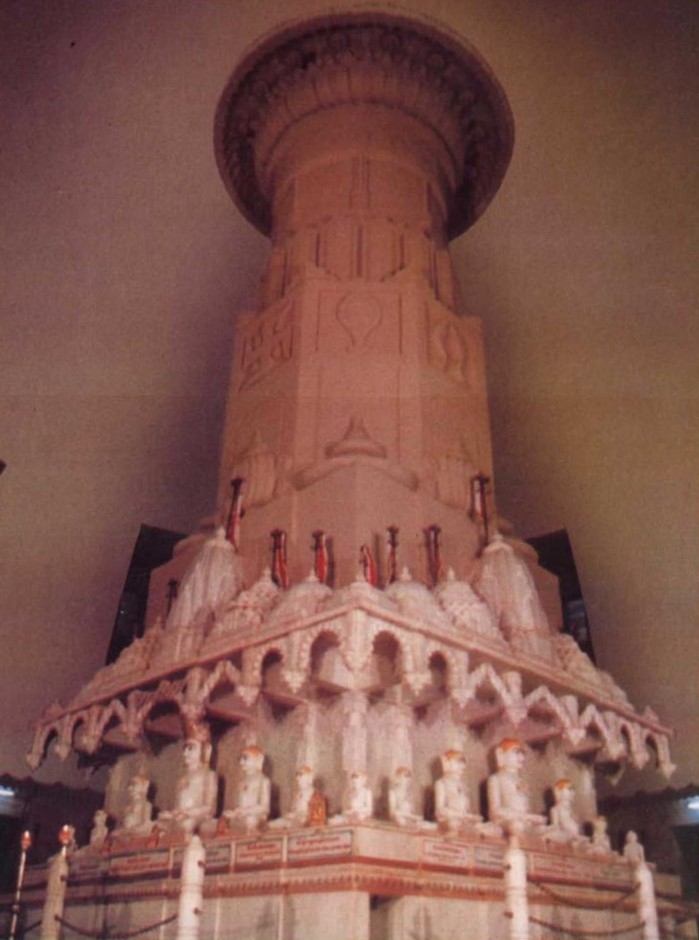 On the four gates of Samavasaran temple are beautiful scenes of mahamahan, mahagop, mahasharthavah and mahaniryamak. The eight blocks on either side of the main gate are a spcimen of exemplary artistic work, along with other beautifully carved figures. One block houses the administrative office and in another block are found the idols of Shri Gautam Swamiji, Shri Vigyansuriji, Dharmaraj Kastursuriji, mother Chakkesari and mother Padmavati. The other blocks have pictures of 63 shalaka purush, 5 vachana of 45 agam etc. and other useful details and information connecting the past with the present are also provided.
The sanctum sanctorum of the Samavasaran temple fascinates the devotees and they experience celestial bliss. The exteriors of the temple are equally attractive with intricately carved figures of Shri Neminath, Shri Parshvanathji, Shri Adinathji and others as also other scenes depicting the glorious past. On the left is Bhaktibhavan which provides all the amenities that devotees would wish to have. As one goes up, one finds lovely figures of sadhus and sadhvis and birds and animals which are a feast to the eyes. There is a huge idol, 61.5" in padmasan posture, of Shri Mahavir Swami and two artistically carved trees, Ashok and Chaitya, weighing about 500 tonnes, 27 ft. tall and with a radius of 37 ft. The sight, early in the morning, gives both peace and pleasure. Samavasaran is no ordinary temple but a maha(great)mandir, a symbol of spirituality and devotion as exemplified by jinshasan.