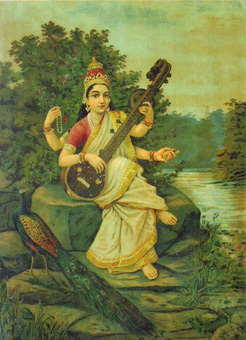 About
About the picture
:
Modern Portrait of Sarasvatī, painted by Raja Ravi Varma (1848-1906), depicting the goddess accompanied by a peacock.
---
About the person:
Sarasvatī is one of the most popular Hindu goddesses, associated with wisdom and knowledge, music and arts. Iconographical she is usually depicted four-armed, holding a Vīṇā, a rosary (Skt. mālā) and a book. Her traditional vehicle (Skt. vāhana) is a Swan (Skt. Haṃsa), but modern paintings sometimes use to depict a goose or a peacock instead.
Sarasvatī is also venerated by Jainas and Buddhists.


According to the Jaina tradition the Śruta-devī or Sarasvatī is the head of the sixteen Vidyādevīs (Goddesses of knowledge, personification of knowledge and wisdom).


The connection of Sarasvatī to the element of water has possibly led to the denotation of a (mythical) river with her name.


Furthermore Sarasvatī is a common name of persons in the ancient Indian literature and history, e. g. the Jaina nun and sister of Ācāry Kālaka.