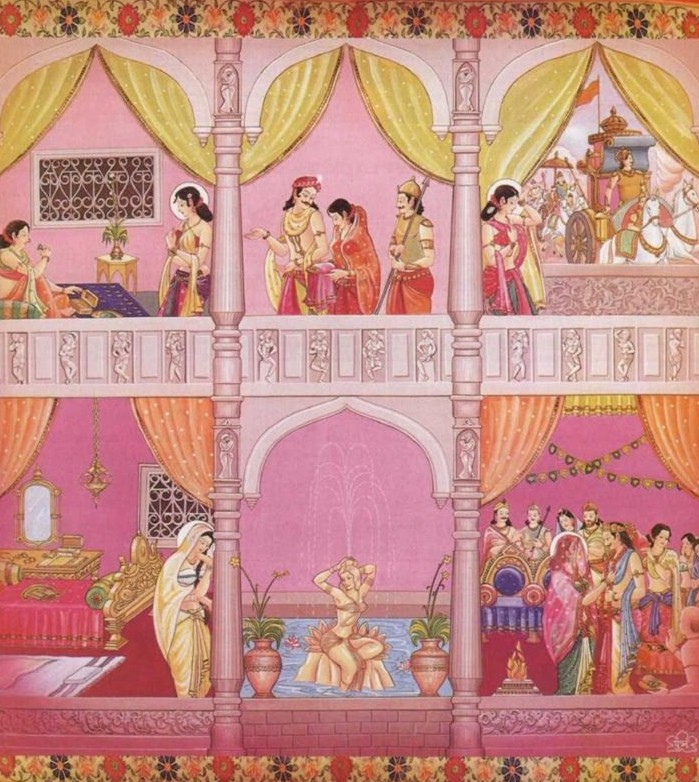 ---
Bakuladevi
Bakuladevi! An exceptional woman whose name shines like a bright star in the history of Gujarat. Like a lotus, which remains unaffected by the mud around, she grew up, in the midst of luxuries and lust, to be a highly pious, virtuous and righteous woman. Blessed with incomparable beauty, she was the daughter of a courtesan. It was not that she was blessed only with external beauty, but her inner beauty also shone brightly. Though the daughter of a courtesan, she lived a pious life and guarded her chastity zealously. She wanted to lead the married life of a woman born in a high family. King of Gujarat Bhimdev came to know about Bakuladevi and her sterling qualities and spotless character despite being a courtesan's daughter. He thought to test her character and chastity. He sent a marriage proposal to her which was accepted by Bakuladevi. Bhimdev, instead of solemnizing the marriage, was diverted to the warfare and decided to invade his arch enemy king Bhoj of Malwa.
Gujarat and Malwa had been at war for a long time. Bhimdev was determined to inflict defeat on Bhoj. The war lasted for two long years with the decisive victory of Bhimdev. People thought that it was difficult for an alluringly lovely woman like Bakuladevi to protect her chastity, especially in an environment in which she lived. But Bakuladevi was made of different stuff. From the moment Bhimdev had sent the marriage proposal, she had accepted him as her spouse. During the period the king was away fighting the battle, she had vowed not to wear expensive robes or ornaments. She took all precaution to guard her chastity and waited patiently for Bhimdev to return. When he returned after his victory over Bhoj, he learnt that Bakuladevi had been waiting for him and that her character was as spotless as ever. She had been pining for him and had grown frail and emaciated, having abandoned good food and all luxuries.
Bhimdev was convinced of Bakuladevi's devotion to him and her spotless character. He, then, decided to marry her. People, on the other hand spread all types of rumours. They said, "We do not know who she is and her family too is not an honourable one! How can a son, born of such a woman, inherit the throne of Gujarat? He will not have royal blood flowing in his veins." Bhimdev ignored such malicious gossip. He said, "Forget that she is the daughter of a courtesan. Her character is clean and she is a pious, righteous woman." People realised their folly in condemning such a virtuous woman and her esteem grew in their eye. Bhimdev married her and made her the queen of Gujarat. A son, Kshemraj, was born to her. Kshemraj's son was Devprasad. Devprasad's son was Tribhovanpal and his son was the mighty Kumarpal. It is said that good and noble sentiments bloom in the hearts of people only if there is congenial environment. Very often quite contrary is the case. A person must be judged by his noble motives and sentiments, howsoever foul enviroment he happened to have born in or lived in. A person with evil thoughts inhabiting sacred enviorns has to be judged as of a lower species. Bakuladevi was a woman to be judged by her deeds, by her thoughts and her noble character and history indeed has judged her as such.