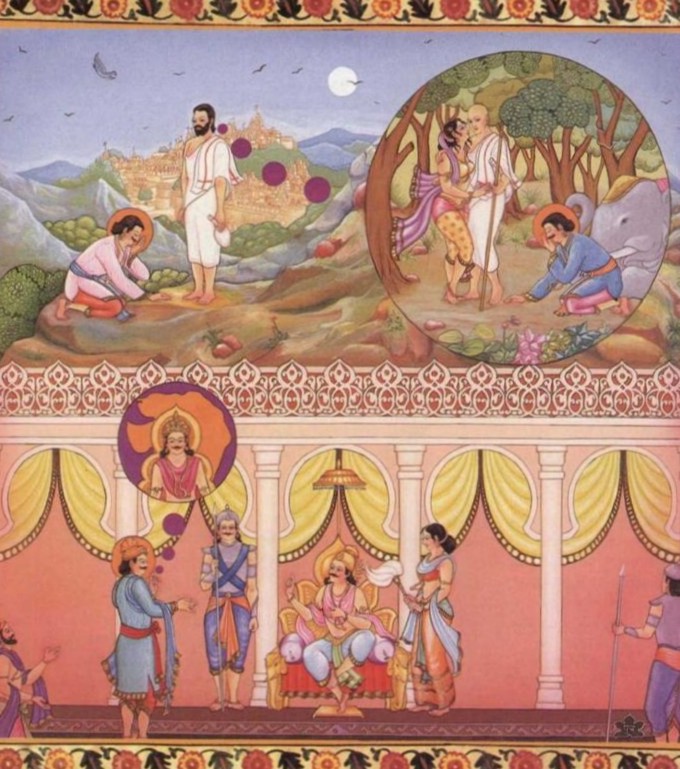 ---
Mahamantri Shantu
The Solanki era was the golden period in the history of Gujarat. The name of Shantu shone like a bright star during the era. He was renowned for his bravery and patriotism, besides his devotion to religion. He was the head of a fleet of five thousand horses during the reign of King Bhimdev. He then rose to become chief minister and chief whip in the kingdom. In 1094 A.D., King Siddharaj ascended the throne of Patan. He had to face internal as well as external threats to his rule. Mahamatya Shantu assumed the leadership of the army and, suppressed the rebellion. Being a religious-minded person, he constucted temple in Patan, and in Tharad and installed many idols on Mt. Abu and Shantuvasahi in Ashaval. Two huge Jain temple were also constructed in the two villages of Vanka and Nihana. He facilitated the entry of devotees from one village to the other so as to enable them to perform pooja (worship) in different shrines.
Shantu once undertook a pilgrimage to Shatrunjaya Tirtha. He saw a man engrossed in penance but could not recognise him. He bowed to him and asked him his guru's name. The man said his guru was Mahamatya Shantu. This came as a bolt from the blue for Shantu and asked him to explain what he meant. The ascetic then, explaining, said: "Once Shantu, astride an elephant, had come to Shantuvasahi to get a glimpse of the god. At that time a yati stood there with one of his arms around a prostitute's shoulder. Shantu stopped the elephant, dismounted and bowed to the yati. He bowed again and then the yati felt ashamed of himself for becoming a slave to lust. He thought that Shantu, a mahamantri, was an embodiment of devotion and courtesy while he was treading the path of sin. When Shantu left, he felt remorse and decide to abdicate all worldly possessions and get rid of all desires. He attained his diksha (initiation) from Acharya Hemchandrasuri and began• penance in Shatrunjaya. Twelve years have passed since then, but how can I forget guru Shantu who showed me the right path?"
This incident strengthened Shantu's faith in religion. Shantu spent eighty-four thousand guineas on the construction of a palatial residence and invited Acharyas to visit it. Acharyas began climbing each floor but maintained a studied silence. Shantu was baffled and asked as to why they had not uttered a word. Acharya Shri Manekchandrasuriji said: "Your residence is a symbol of your affluence. How do you expect us to praise it? We would have certainly done so if it had been an upashraya." At that very moment Shantu declared that this palatial residence would now be an upashraya. It so happened once that king Siddhraj was angry with Shantu for no apparent reason. Shantu instead left the place and settled in Malwa in Rajasthan. Siddharaj employed spies to keep a catch on Shantu to find out if Shantu indulged in any suspicious activities. On the other hand the king of Malwa tried to tempt Shantu and win over him to his side. But Shantu refused to succumb to temptations. He said: "I have embraced Jain religion, and have accepted Acharya Devsuriji as my guru and king Siddharaj as my master. Gujarat is my motherland and I cannot think of betraying her. I do not want to be a traitor. I would rather die than to be a traitor." King Siddharaj learnt about Shantu's intense love for his motherland and felt ashamed of himself for being instrumental in Shantu's departure from Gujarat. He realised his folly and sent a word to Shantu to return home. In deference to his master's wishes, Shantu returned to Gujarat and was accorded a hero's welcome.