The great lady Anjana was the daughter of Queen Hridaysundari and King Mahendra. Because she was the only sister of a hundred brothers, her parents and all her brothers loved her very much. Sweet and charming, she impressed everyone at first sight. Because of her extraordinary beauty and talent, it was not easy to choose a groom perfectly suited to her.
The King's chief minister, whose help the king sought in the matter,had two princes in mind: Vidyutprabha, the son of King Hiranyabha, and Pavananjaya, the son of King Prahlada. The astrological readings of the two, however, were that the former would die at eighteen whilst the latter would have a long life. After some time, King Prahlada sent a marriage proposal to King Mahendra, who accepted it. All agreed to a date for the wedding ceremony.
A week before the ceremony was to take place, Pavananjaya convinced his friend Prahasit to come with him to glimpse Anjana before the marriage. They surreptitiously entered into Anjana's room, hid themselves when they saw a group of women and listened to the ongoing conversation.
One of Anjana's many friends praised Pavananjya, while another praised Vidyutprabha. Then Anjana said, "You know, Vidyutprabha is lucky that he has left carnal desires and will attain liberation very soon". Pavananjaya, thinking that Anjana loved Vidyutprabha, at first wanted to leave the town but then decided to divorce Anjana after the marriage.
After the marriage Anjana waited in her room for her new groom, who did not show up. Pavananjaya did not acknowledge her as his wife. Anjana, not knowing what wrong she had done suspected the force of her previous life's karma at work and knew she must just wait it out.
After twelve years had passed without any commu­nication between the two, King Raavan sent King Prahlada a message that in order to defeat King Varun he would need his help. King Prahlada prepared himself to lead the army, when Pavananjaya offered himself to go, a proposal to which the king agreed. Thousands of people gathered at the city gate to see the prince off, shouting blessings and good wishes. When he saw Anjana in one corner of the crowd, he became upset, muttering under his breath, 'What! Is she still trying to attract me? She never loved me, but only him. She has no right to take away my moment of fame by being here."
That night when the army was a few cities away and resting, Pavananjaya was watching a pair of skylarks enjoying each other's company. After a while the male flew away, leaving the female to burn in the agony of separation. The emotions of those birds left a deep impression on Pavananjaya, who thought, "How distressed the female skylark is when her partner has left her! How deep must be Anjana's distress! -- She has been living a life of neglect and unhappiness for twelve long years, and I have been responsible for her misfortune!"
He conveyed his feelings to his friend Prahasit, who replied solemnly, "I cannot measure the depth of Princess Anjana's wound. She is noble, patient, and forgiving. You think you have given her up, but you do not realize how devoted she is to you. Do not doubt her chastity of mind and heart."
The friends decided to use the divine power they had to fly to Anjana's palace. Anjana was surprised and glad to see her husband, whom she first mistook for a ghost or god. The night was warm and the two made up for the lost time. Before he left in the morning, he gave his wife a ring with his name inscribed on it as proof of his spending the night in her room.
Soon after Anjana found out that she was pregnant.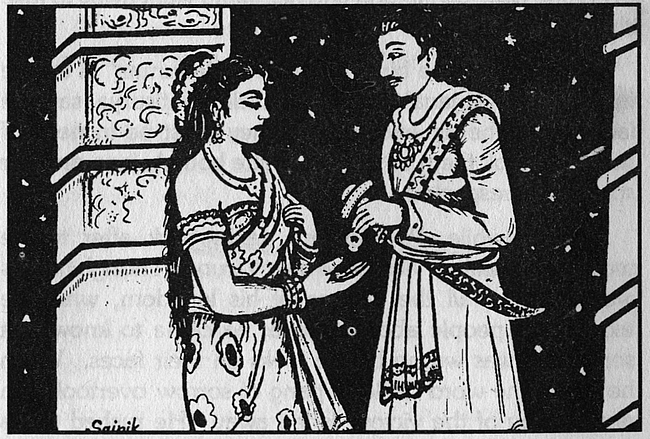 As physical pain overrode all other thoughts, Rohineya paured to remove his finger from his ear and used then to pull the thorn from his Foot.
When her mother-in-law knew, she called Anjana a slut and informed the king, who agreed to have Anjana dropped off in some dense forest near her parents' home.
If she had not been so sad, Anjana might have found the situation ironic. She had patiently suffered the misery of twelve long years of neglect by her husband, and then a one night's meeting with him had so much more disastrous consequences.
Anjana, on her friend Basanttilka's insistence, went to her parents' house, where she did not receive a welcome any better than the one she would have received from her husband's household. Her parents, brothers and sisters- in-law, hearing of her supposed (predicament called her loose charactered and ostracized her just the same as everyone else. So Anjana and her friend went away to take shelter in the forest.
Anjana gave birth to her son 'Hanuman' in a cave in the forest. Anjana's maternal uncle, Pratisurya, saw the ladies from the air and thought they must be in need of help. He took them to his city, where both Anjana and her son where respected.
Meanwhile, Pavananjaya came back after twelve months, becoming victorious over Varuna. Though he was welcomed by all the citizens of his kingdom, when he inquired of people about Anjana, he cam 2 to know that something was wrong by the looks on their faces. When he heard the word 'exile' a pang of sorrow overtook him and the joy of the victory faded away. He rushed to his in-laws house where the news was the same.
He decided to find Anjana or die. He resolved not to eat anything until he met his loyal wife once again. Envoys were sent in all directions and Anjana was found in the city of 'Hanupur' and was brought back to Pavananjaya's city. Her parents and parents-in-law, upon hearing the truth, shed tears of shame and regret for having judged her too quickly. Anjana consoled them all by saying that her misfortune was the outcome of her own karma, they were merely instrumental.
After Pavananjaya had ruled over his father's city for many years, he renounced the world to devote the remainder of his life to spiritual attainments. The ever- patient Anjana practised severe penance, took a life-long feist and was reborn as a celestial being.