King Bhima of Vidharbha had a beautiful daughter Damayanti whom he nurtured in great comfort and happiness. She married Nala, the son of King Nisadha of Ayodha. When king Nisadha was ready to retire, he transferred the responsibility of the kingdom to Nala, who was a wise and just ruler, with whom the people were happy. However, Nala's younger brother, Kuvara, was extremely jealous of his reputable brother and wanted to bring about his downfall. Knowing Nala's great weakness, his addiction to gambling, Kuvara decided to challenge his brother to a game of dice-- with high stakes.
The brothers usually did not gamble but upon insistence from his brother to make the game more exciting, Nala began younger betting and losing his personal property as well as his towns and villages ~ and at last his own ruled city. Kuvara, anxious to claim his spoils before his brother realized he had been cheated, asserted his right to the throne and demanded Nala's exile for twelve years immediately. Nala was hurt ancf surprised but had no choice. His wife Damayanti - who was not lost as well- was asked to return to her parent's home. Damayanti, however, as a devoted wife decided to follow her husband. She reasoned, "Would you really like to stay in the forest alone? I want to share the joys and sorrows of your adventures, and do not want to stay behind. Therefore, Nala could not leave his wife behind, though he knew she would face difficulties in the forest.
As they were leaving for the forest, Nala said to his people, "Be as good to my brother as you have been to me. When my period of exile is over, I will return." Nala and Damayanti walked in the forest until evening when they rested under a tree. Looking at his sleeping wife, Nala thought, "I tried to get her to stay at home where she could avoid the difficulties of the forest. I will only jeopardize her safety more if I take her further with me." Thinking this, he left Damayanti in the forest alone and walked on, only to stop, come back, and think "Did we not promise at the time of marriage to share both joys and sorrows together? How can I leave her then?" He pondered some more and then finally left her again after tying a note on the corner of her sari.
Some time later, Nala heard a voice crying, "Nala, come quickly. I am burning. Help me." It was a black cobra in a blaze of fire. When Nala tried to save the snake, it bit him and he was transformed into a hunchback. "This is how you thank me for saving your life?" Nala asked. At that moment the snake turned into a deva, who said, "Don't worry; I am your departed father. Because you have to live twelve years in exile, I've come to help disguise you so that your enemies may not recognize you. Here are two magic things -- a coconut and a basket. If you ever need to change back to your original form, decorate yourself with the ornaments in the coconut and put on the divine cloth in the basket. The deva then pointed in the direction of a city, Sumsumara to which Nala proceeded.
A stray elephant was terrorizing the town, and the king announced a reward for anyone who could bring it under control. The hunchback jumped on the elephant, uttered a mentra called "controller of elephant" and the elephant calmed down to its normal state. The hunchback was taken to the king, who asked the man's identity. "I was the cook of king Nala. When Nala was exiled, I left too and have been wandering ever since." The hunchback was appointed as the head of the kitchen, prepared food for the king, and in no time earned the respect and friendship of the king.
When Damayanti awoke and found her husband gone, she looked all around and then began to cry. She saw a demon standing before her. She became frightened not knowing what to do. She started praying. Few minutes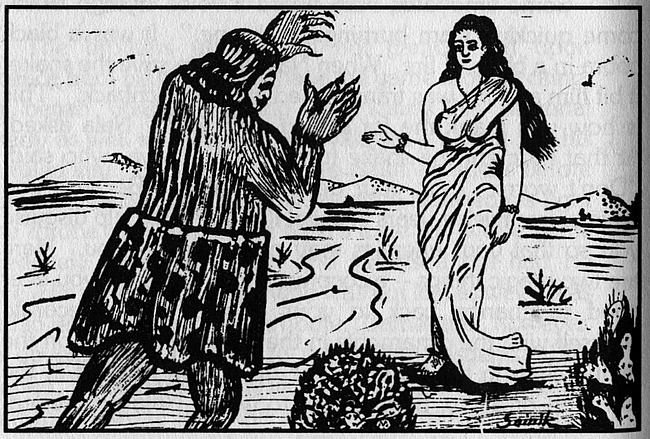 When Damayanti awoke and found her husband gone, she looked all around and then began to cry. She saw a demon standing before her. She became frightened not knowing what to do.
later when she opened her eyes she found that the demon had disappeared just as he had come. As she raised the border of her sari to wipe her tears, she found the note tied to its corner. She read it and thought, "Perhaps it would be better if I had acted according to his wishes." She recited the Namaskaar Mantra and left to find her parent's home. On the way she met the deva who had appeared to Nala. He told her "Your trouble will last for twelve years after which everything will be all right."
After a long journey filled with many hardships, Damayanti at last reached Achalpura where her aunt was a queen. Summoned to the palace, Damayanti introduced herself: " I was in the service of queen Damayanti. When the royal couple was exiled, I left too and have been wandering since." The Queen, not having recognized her, felt sorry for Damayanti and employed her.
Meanwhile, when King Bhima had found out about the exile of Nala and Damayanti (for he'd been away at the time), he was furious. Messengers were sent out to look for them. Finally reached Achalpura where Damayanti was they recognized and brought to her parent's place. However, King Bhima still didn't know where Nala was. A few months later, a merchant who had come from Sumsumara talked of a hunchback who said he had been in the service of king Nala himself. Damayanti heard it and had a messenger sent to the king of Sumsumara with the message that King Bhima was convening an assembly of princess for the second marriage of his daughter. The hunchback arrived by chariot and served Damayanti's family with food cooked by the rays of the sun. Damayanti was now sure that this was Nala because only Nala possessed those two powers - to cook by the rays of the sun and to drive the chariot through the air. She called the hunchback and the two stood face to face, tears in their eyes. After a few minutes Damayanti asked, "Why did you leave me in the forest? Why, even now, won't you reveal your identity?"
With that, Nala put on the clothes and ornaments given to him by his departed father and regained, to everybody's surprise and delight, his normal form. All rejoiced at the reunion of Nala and Damayanti. The twelve years exile period was almost completed and, with the help of king Bhima and the king of Sumsumara, Nala regained his usurped throne and once again ruled over the kingdom of Ayodhya.