Jindas was the chief minister of king Jitshatru, who ruled over the town of Basantpur. Jindas and his wife Jattvamalani had a daughter named Subhadra. Their family had a background of deep-rooted Jain traditions. The practice of Samaayika, self-study, and chanting of mantras was embedded into the routine of their family life. Because Subhadra especially showed much interest and enthusiasm in Jain spiritual practices, Jindas wanted her to be married into a Jain family to avoid any doctrinal conflicts.. However, his search to find a suitable match was at first unsuccessful.
A youth named Buddhadas from Champanagri saw Subhadra on a visit to Basantpur and was so attracted by her beauty and the serenity of her countenance that he collected information about her. He was happy to learn that she was still unmarried. However, then he learned that her father was determined to give her away in marriage to a Jain family. This revelation was a shock to Buddhadas who belonged to a family of Buddhist tradition. He decided to avoid losing neither Subhadra nor his religion through deceit. He disguised himself as a Jain house-holder and performed Jain rituals, i.e., Samayika, meditation, religious study, etc. His family was surprised but he was determined to get what he wanted. So, when he felt he was ready, he orchestrated an accidental meeting with Jindas. Finding Buddhadas a capable youth and devout Jain, Jindas gave Subhadra to him in marriage. But when Buddhadas returned to Champanagari with Subhadra, he threw out his adopted guise of a Jain youth, because its purpose was served.
When Subhadra came to know she had been deceived, she was stunned and hurt, but, because of her inner strength, faced the situation boldly and courageously. As the only Jain in a Buddhist family, she was taunted and ridiculed, but she held her head high and kept her religious resolution.
One day, a Jain monk practising abhigraha came to Buddhadas's house to collect alms. Subhadra gave him alms joyfully. When he was leaving, however, she noticed tears falling from his eyes due to a straw stuck in his eye, and knew that monks practising abhigraha do not take care of their bodies. Not able to bear the pain in the monk's eye, Subhadra went to him and drew the straw out with her tongue. Her mother-in-law, who witnessed the incident, yelled at her, "You have blemished our home by your indecency! You didn't feel shy of touching the monk? You boast of the Jain religion. Does your religion encourage such activities which are against monastic discipline? Does it not promote lewdness?" The whole family was furious and tried to force her to convert to Buddhism, though she was adamant on her views. Even Buddhadas also expressed doubt on Subhadra's character and started scolding her for the act. Ultimately he stopped speaking to her. She however tolerated everything and indulged in spiritual practices even more.
When the news spread to others in the city, the situation worsened and Subhadra felt worse. Instead of fearing the blemish on her own name, though, she worried that the Jain religion and its practitioners were being condemned wrongly because of her. Feeling grievous, she once burst into tears, but no one was there to console her. She restrained herself a great deal and kept firm faith in her religion and in her chastity. Subhadra decided to abstain from food and drink until she cleared herself of the false charges, and then absorbed herself in chanting Namaskaar Mahaamantra.
On the fourth day of her fast, all four doors of Champanagari got jammed automatically and all efforts to open them were in vain. Because all the roads to go out from the city were blocked, the inhabitants were worried. All of a sudden, a divine voice exclaimed, "Citizens! Your efforts are in vain! Only if a chaste wcman, having tied a sieve with a thin thread, draws water from the well, and sprinkles it on the doors, she can open them."
The voice created much discussion and deliberation among the women of the city. Some women appeared to have confidence in their chastity but doubted whether their efforts would open the door. If a door didn't open, a woman was likely to be branded as unchaste. Though most women opted not to participate because of the dilemma, a few picked enough courage, went to the well, tied the sieve with a thread but could not draw any water.
When Subhadra heard of the city's problem and the suggested solution to it, she thought to herself, 'What an excellent opportunity for me to get rid of the blemish wrongly cast upon me'. She said to her mother-in-law, "If you allow me, I may go and open the door," to which the mother-in-law looked at her with widened eyes and said, "O wretched woman! Do you want a further defamation of our family? Have you forgotten how you acted so immodestly with that monk?" Subhadra was quiet for a moment and then again requested. When her mother-in- law did not answer, Subhadra concluded she was not protesting.
Though people stared at her with suspicious eyes as she approached the well, she paid them no heed and resolutely tied the sieve with a thin thread, mentally recited Namaskaar Mahamantra and drew the water, which she took to the doors and sprinkled on three, which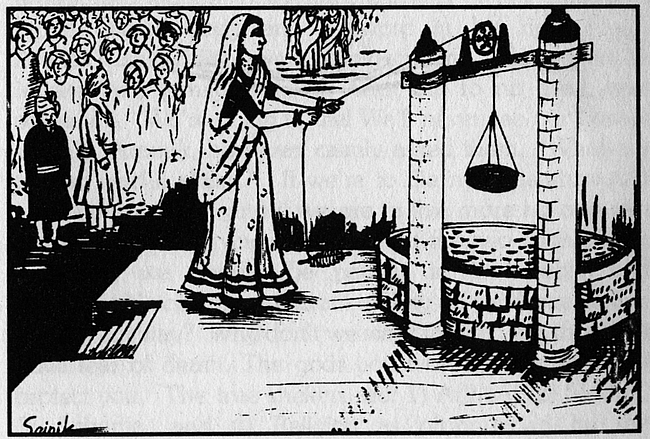 Though people stared at her with suspicious eyes as she approached the well, she paid them no heed and resolutely tied the sieve with a thin threads, mentally recited Namaskaar Mahaamantra and drew the water
immediately opened. She left one with the idea that if any other woman would be required to prove her chastity, that door would be for her.
After that event, Subhadra was given a big applause. When Buddhadas and his family knew what happened, they all apologized to Subhadra and felt proud to have her as a member of their household. They adopted the Jain religion. Finally Subhadra became a Jain nun and attained liberation from all worldly bondages.