King Prasannachandra ruled over the small state of Pottanpur. At last came the time for him to transfer his royal authority to his son, who had just come of age. After entrusting the management of the State to his son, Prasannachandra received initiation from Lord Mahavii.
Once Prasannachandra, now a monk, came to Rajgriha with Lord Mahavir. Standing on one leg, with arms raised, he was engrossed in meditation outside the Samavasaran. A large number of people, including King Shrenik, passed by without disturbing the deep meditation of the monk to see Mahavir.
Seeing the calm, quiet face of Prasannachandra, resplendent in meditational pose, Durmukh, a minister of King Shrenik, was possessed by a fit of mad jealousy and malicious intent to disturb the monk's tranquillity. He taunted, "Having left your son, a minor, at the helm of affairs of your kingdom, you have become a carefree monk. Do you know how fearful your young son is in such a situation? Enemies have surrounded him on all sides! The kingdom and his life both are at stake! If you have any worth, show it. It is your duty to save your child from these perils, after which you should think of spiritual attain­ments."
Outwardly, Prasannachandra was unperturbed, but inwardly, his mind was growing restless. He visualized the frightened face of his young, helpless child and he was mentally there at Pottanpur to protect his son. Mentally, he ordered the army to be prepared for battle, saw his army carry out the order, and even come with arms onto the battlefield, wounded or imprisoned all who threatened to harm the well-being of his son.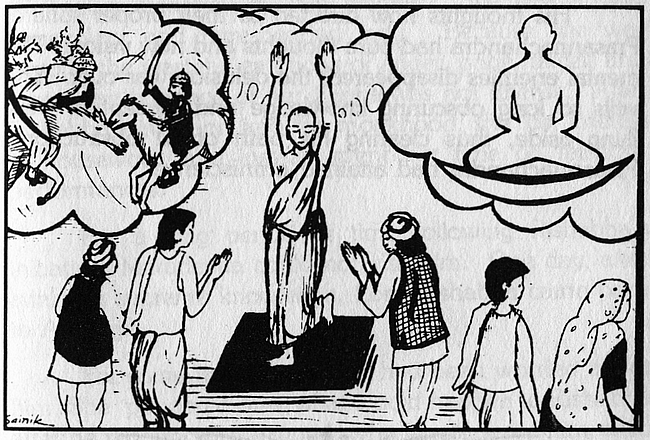 His thoughts now directed to their proper sphere, Prasannachandra had pure thoughts and new vision.
This agonizing state of mind full of violence and fear were contradictory to the peaceful outward nature that he was manifesting. New thoughts were perpetually fueling the fire of wrath and vengeance burning within his mind. Upon hearing the appreciative words of a humble layman thanking him for his exemplary lifestyle- "Leaving all worldly luxuries and practising Sadhana is noble indeed" the monk began to really think: ~ Whose son? Whose empire? Of what am I thinking? Why do these earthly cares plague me so? What good can come of wishing harm for others? Such attachment is not wise. I must repudiate such inane feelings as victory and defeat. Such are the thoughts of irrational men. I wish to be beyond such trifles.
His thoughts now directed to their proper sphere, Prasannachandra had pure thoughts and new vision. The mental enemies disappeared; the delusion was over. The veils so long obscuring knowledge and perception were flung aside, thus clearing his path of all obstructions. Prasannachandra had attained omniscience.