Once there was a very poor boy named Sangam who lived in a small village. He faced many hardships in his childhood because of his family's lack of money. One day he looked at a child eating kheer. Sangam came to his mother, began to weep and said, "I want to eat kheer.''''
The mother said, "Dear son, how can I afford it? I am hardly able to get even a square meal." Sangam insisted on having kheer. He wanted it so badly that he started crying.
The neighbours asked, "Why is your son crying so loudly?" His mother explained to them that he wanted kheer but she could not afford it. The lady living next door was very kind and gave her milk, sugar and rice to make kheer. The mother prepared kheer and called her son to eat it. Sangam, filled with joy, came running to eat it. The mother served the kheer in a dish and told him he could eat as much as he wanted to. She then left for a while to fetch him some water.
As the boy was about to start eating, he saw a monk passing by. Sangam overpowering his own hunger, decided to offer the kheer to the monk. Sangam was filled with joy at this idea. He asked the monk to come to his house and receive alms.
The muni asked him, "Did you ask your mother or not?". The child replied, "It is made for me; I have no need to ask my mother. Please accept my kheer in your bowl." As the monk raised his bowl, Sangam poured all the kheer in it. He thought he was very lucky, because the great monk would help him achieve emancipation.
The muni returned to his place and Sangam's mother came back to the house. She saw her child licking an empty dish. She felt sadness in her heart as she thought how unfortunate she was! He had eaten so much kheer and was still hungry. She thought she must be really starving the poor boy.
Sangam did not say anything to his mother about giving all the kheer to the monk. After a short while, he felt an acute pain in his stomach. He tried to call out his mother but could not speak a single word. He began to roll on the ground like a fish out of water and soon breathed his last. It was a bolt from the blue for his mother.
He was reborn as Shaalibhadra in the Gobhadra family, the richest family in town, so rich that even the king could not compete with them. He grew up and was married to thirty-two beautiful girls. He never came out of his palace but stayed inside enjoying the company of his thrity-two wives.
One day few jewel rug dealers came to Rajgriha to sell their sixteen rugs. Each rug cost 1.25 lakhs of golden coins. They did not find a single person to purchase them, so they went to the king. The king and queen were very keen to buy them, but when the merchants revealed the price, the royal couple was shocked and refused to buy. The merchants were disappointed. They thought that if the king and queen could not buy them, nobody else in the city would be able to buy them. So they got ready to pack up their bags and head for another city when a maidservant noticed their disappointment and inquired: "Why are you all looking so down?" The dealers told their story to the maidservant.
The maidservant laughed and exclaimed, "You have been mistaken. The king is not the wealthiest person in this town. You must go to Shaalibhadra. He has boundless wealth and will be able to buy your rugs easily."
The merchants, relieved by the news, entered Shaalibhadra's abode. They were absolutely mesmerized by the sight of such glory of Shaalibhadra. They were seated in the drawing room. Bhadraa, the mother of Shaalibhadraa was informed and she came to see the merchandise. After looking at the rugs, she remarked, "I need double the number. This is not adequate."
The merchants apologized. Bhadraa, however, ordered her cashiers, "Pay twenty million gold coins to these gentlemen at once." The merchants were impressed by the generosity of Bhadraa. Expressing their gratitude to the maidservant, they went home.
Bhadraa distributed the sixteen rugs among the thirty-two wives of her son, giving half to each. They did not like them but out of respect for their mother-in-law, they used them for one day and then threw them away. The lady-sweeper of the household picked them up, wore one and went to the king's residence. The queen saw her and liked the rug, so she summoned her. The lady told her how she got it and the queen was shocked. She told the king, "We could not buy even one of these rugs to keep, whereas Shaalibhadra bought all of them and then threw them away."
The king could hardly believe his ears. He decided to meet Shaalibhadra. He sent for him through his messenger who met Bhadraa. She replied politely that her son was very delicate. He could not come down even to the first floor of the house. She requested the king to come up himself.
King Shrenik was very astonished by her statement, but went up nevertheless. He waited for Shaalibhadra to come out of his room. When Bhadraa told Shaalibhadra that the king was waiting to see him, he said, "Mother, whatever price is to be paid for purchasing the king, pay it and keep it in our treasure room."
Bhadraa tried to explain to him that the king was not a commodity but he did not understand. At last he was told that the king was their master. He then came out and bowed to the king as instructed. The king blessed him and returned to his palace. Shaalibhadra was perplexed; he could not believe that anyone was superior to him. In order to solve the problem, he decided to meditate and hoped that the answer would come to him. Through meditation, he had a revelation of his previous life and realized that money was not everything. He also started to think about his present weak condition and whether he could ever be satisfied with money. Upon that stroke of wisdom, he decided to renounce his household and his thirty-two wives. After heralding this idea to everyone, he was criticised by his wives, sister and mother.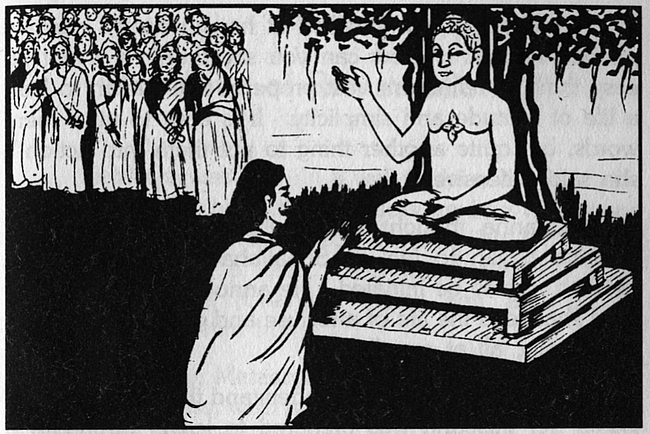 Upon that stroke of wisdom, he decided to renounce his household and his thirty-two wives.
They were very aggrieved by this announcement. Shaalibhadra, though adamant in his decision, decided to compromise by forsaking one wife each day instead of all at once.
Subhadraa, Shaalibhadra's sister, was married to Dhanna, a renowned merchant. He was the richest person of his city. When Subhadraa came to know about her brother's renunciation, she became depressed. When Dhanna inquired why, she told him the whole episode.
Dhanna said, "Your brother seems to be a coward. If he wants to renounce the world, why is he delaying it so much by forsaking his wives one by one? He must certainly be a coward."
Subhadraa was shocked at her husband's narrow- minded remark. "How can you say that? It is not an easy thing to relinquish vast property and wealth to lead a life of solitude and simplicity. It is easy to utter mere words, but quite another thing to put them into action", she said defensively.
Dhanna thought about what his wife had said. Dhanna began to feel as Shaalibhadra did and thus decided also to be initiated. He announced, "From now on, I shall lead the life of a recluse and give up my wealth and family, all at once".
Subhadraa could not understand the turn of events. When her husband was prepared to leave, Subhadra a caught his feet and apologized for her mistake. Dhanna, however, replied that he could not go back on his word. He left Subhadraa weeping. He went to Shaalibhadra's house and said, "Come with me and we both shall accept the auspicious path of renunciation." Both left the worldly life to follow the path of Mahavir. They were initiated into the Jain religion and spent their lives in bliss.