Bhaavadeva and Bhavadeva were two brothers. Their mother, Revati, was a deeply religious lady who was very firm in her observance of daily rituals. The religious nature of the mother left an indelible impression on Bhavadeva. He also became religious and condemnatory of sin.
During adolescence, his religious tendency aug­mented immensely. The increase in his detachment towards worldly things eventually resulted in his becoming a monk. His brother, Bhaavadeva, as a householder, continued to perform religious duties in his mother's company.
As Bhaavadeva came of age, he was wedded to a beautiful girl named Naagala. Bhaavadeva was returning home with his bride when he saw his elder brother giving a sermon in the forest. Realizing this as a chance to open his brother's eyes, muni Bhavadeva highlighted the transitoriness and shelterlessness of the world. The preachings took their toll of Bhaavadeva. Listening to them he desired to leave the carnal pleasures to enjoy the wholesome simplicity of the life of a monk.
However, Bhaavadeva's coin was two-sided, and he could not tell which side was up. He told his brother, "When I look at you, I want to join the assembly of monks and nuns; yet when 1 look at my wife, I want to fulfil my duty towards her. '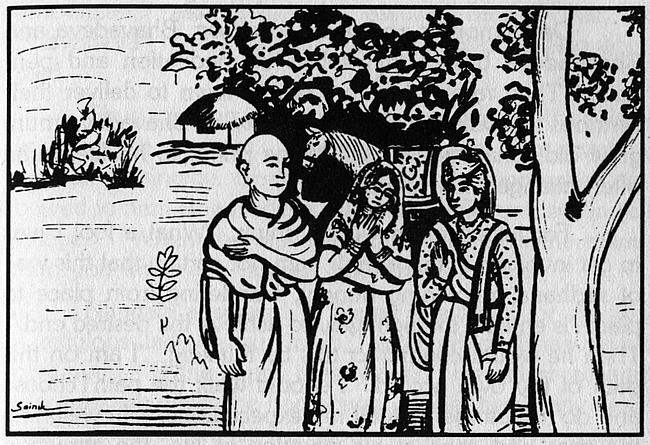 Realising this as a chance to open his brother's eyes muni Bhaavadeva highlighted the transitoriness and shelterlessness of world.
Naagala then spoke, soothing her husband, "Do not worry about me. If you desire to adopt the religious path, you may. I cannot take to this difficult path but will not prove an obstacle for you. 1 shall pass my life with my religious mother-in-law. So many indulge in carnal desires that those persons who abstain from them are truly special. They are not the common people but are great souls. Please, if you feel strongly about it, accept the path which you feel so right, without further ado."
The encouragement of his brother, the inspiration of his wife and his own innate inclination toward the monkhood, all effected Bhaavadeva's initiation into the life of penance and seclusion. Naagala remained accordingly with her pious mother-in-law.
Days, months and years rolled on. Bhavadeva and Bhaavadeva busied themselves in meditation and pen­ance. They rambled from town to town to deliver their sermons to awaken the people. Now, as Bhavadeva muni grew old, Bhaavadeva, still in the prime of his life, quite often changed his mind.
For instance, he would think, "What a fool I was to get involved in this affair! I am not certain that this way of sadhana, remaining hungry, wandering from place to place, is entirely the right way to achieve the desired end." Then he would counteract this by thinking, "I am on this path of my own accord. I should walk the path I choose and do my utmost to fulfil my expectations." In weighing the pros and cons of his situation in life, the attraction toward monkhood diminished and the allurement for worldly objects became ever eminent. He again wanted to be a householder and husband. But then he thought, "My elder brother and his old age! I should not leave him thus!" Though still a monk, Bhaavadeva was now inclined toward the household. He consoled himself that, "When Bhavadeva muni breathes his last I can change my course as I see fit."
Bhavadeva muni, wrinkled from old age and penance, adopted santhaara, and faced death like a brave one. Bhaavadeva was now unbridled, as no one could now prevent him from following the wrong path. Happily he proceeded toward his village, entertaining felicitous ideas in his mind along the way. Then, however, darker thoughts began clouding his brain, "If my mother is alive, she will not allow me to live with my family that I had renounced," after which he assured himself that, "if Bhavadeva muni had died, the mother must also have died."
Thus thinking he reached the outskirts of the village in the guise of muni.. Naagala was one of a group of women passing by. Seeing the monk, she approached and bowed to him. Bhaavadeva asked her, "Do you live in this village?" When she replied in the affirmative, he asked, "Do you know the famous householder Revati?"
Naagala answered, "We all knew her, for she was a religious lady in our town," after which Bhaavadeva continued, "Is she happy these days?" He at last received the massage which he had sought, "She died many years ago." Bhaavadeva felt it a boon, " Now there is no obstacle blocking my way to my cherished object.' He further inquired, "Do you know her daughter-in-law? Where does she live? How is she doing these days?"
Naagala now recognized her husband, but could not fathom why he had come and why he was asking her such questions. She did not reveal her identity, but rather tried to elicit from him some comprehensible information.
Naagala: I know her very well. She is also a religious lady like her mother-in-law. She has adopted the life of celibacy forever, and inspired her husband to do the same.. Why are you asking me such questions about women? It does not behove a monk.
Bhaavadeva: Naagala is my wife and that is why I am enquiring about her.
Naagala: A Jain monk has no wife. What are you saying?
Bhaavadeva: True, a monk has no wife, but I had accepted initiation just after my marriage. At that time I met muni Bhavadeva in the forest and thought it to be the right path for me, and yet now
Naagala: O monk! As a friend of Naagala, I tell you frankly that she will not now like to live with you. Do not now astray from your path.
Bhaavadeva: How can you say that about her? If I am so fond of her, I think she too should be so fond of me. She might have been waiting for me a long time. She is a true devotee of her husband, and so would certainly wish me home.
Naagala: Tell me one thing, O monk! Where would you stay? Please dwell upon the problems herein while I go and find Naagala.
Bhaavadeva was ruminating on his future plans, on his household relationship with Naagala, when, all of a sudden, a child came running toward his mother, and the following conversation ensued:
Son: O mother! I thank you for the table of such sweet dishes as you did lay before me! I had not known such great delight before.
Mother: I am glad, my son.
Son: But mother! As I was finishing my kheer, there appeared a fly in the dish. I vomited, and then licked that vomit. I did not waste it.
Mother: Thank you, son! I am proud of you! 1 am sure that in the future you will again act with such frugality.
Bhaavadeva, listening to this conversation, grew bewildered and repulsed. Indignantly he exclaimed, "How degraded you are! Who would eat vomit like that! Your son ate it and you appreciate it in such a way."
Hearing this rebuke by Bhaavadeva, Naagala roared like a lioness: "Monk! This child ate vomit, but he was ignorant. Think about yourself! Are you any better? You left the worldly pleasures and carnal desires which were like this vomit that so excites your disgust, and yet now you want to eat the same vomit! You have read Agamas, undertaken austerities and hard way of life, and now you are giving up your attainments. You should look before you leap! The serpent leaves his upper skin and never turns back to see it. Look at me. You are behaving like a mad person for Naagala who is standing before you.
"I want to make this point clear: I will not indulge in worldly love. I can respect you as a monk, but I cannot accept you as my husband. You are ready to break your vow but I am firm. No attraction can change my ideas. It would be better for you to go to the forest and perform penance. I hope that you will attain the same path which your elder brother had adopted."
The words of Naagala sparked something within him. He was suddenly awakened. He felt as if he had been given a light to see through the darkness. He thanked Naagala, left the town and returned to the forest to accomplish his sadhana and attain the desired goal.