There once was a poor Brahman named Kapil. One day his wife asked him to devise a plan in order to come up with some money. He could not think of one, but his wife could. Her plan was for him to go to the king who always donated two grams of gold to that person who came to his palace to wish him good morning. Immediately he got ready to go to the palace at sunrise the next morning. Due to his desire for the gold, he became restless during the night and left his house at midnight to fulfil his desire.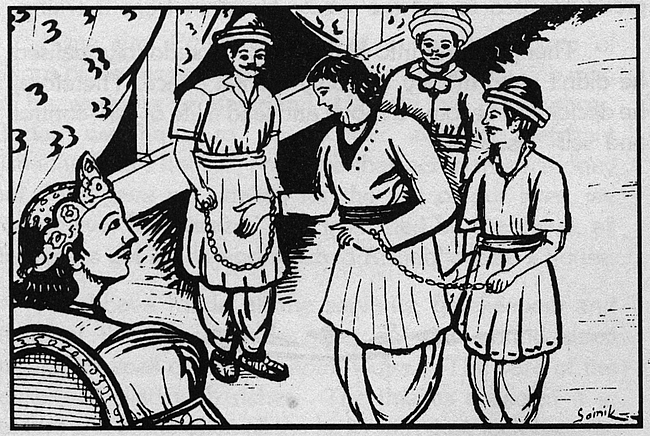 They arrested him and brought him before the king.
On his way to the palace, a policeman interrogated him, "Who are you and what are you doing at this time of night?"
The Brahman remained silent so they thought that he must be a thief. They arrested him and brought him before the king. Kapil picked up his courage and introduced himself.
"O, King! I am a poor Brahman of your kingdom. I always try to come here to get the gold but when I reach here I am always late. For this reason today, I started my journey at mid-night to receive it."
The King was pleased to hear the truth. He was willing to provide him with as much money as he needed. The Brahman, submitting to the overpowering feeling of greed, wanted to get the whole kingdom from the king.
Then, coming into his senses, he suddenly realised he didn't need money but only mental peace. Therefore, he decided to become a monk and lead a life of self- control and self- discipline.