Rathnemi and Aristnemi were brothers, but the two were poles apart in temperament. Aristnemi was detached whereas Rathnemi was attached to worldly things. The beautiful Rajimati wanted to marry Aristnemi, who refused it being devoted to monkhood, Rathnemi was pleased to learn that his brother had refused Rajimati, for it increased his own chances of marrying her.
So Rathnemi sent his maid secretly to Rajimati to sing his praises. After praising Rathnemi's handsome personality, bravery and skill, the maid put forth his proposal for Rajimati's hand. Rajimati was surprised at that but decided to play a trick in order to teach Rathnemi a lesson. She asked the maid to send Rathnemi personally to get the answer. She added that he should bring his favourite drink with him.
Rathnemi regarded Rajimati's message as a good sign. He went to her house thinking happily about the future. Rajimati greeted him and the two talked for a long time, eventually opening the drink Rathnemi had brought.
Rajimati had the drink with a medicine instantly. Just as Rathnemi was thinking his proposal would be accepted, Rajimati vomited in the same cup what she had drunk from. Rathnemi shivered, wondering if something was mixed in his own drink as well, when Rajimati gave her cup filled with the vomit to Rathnemi and asked him to drink it.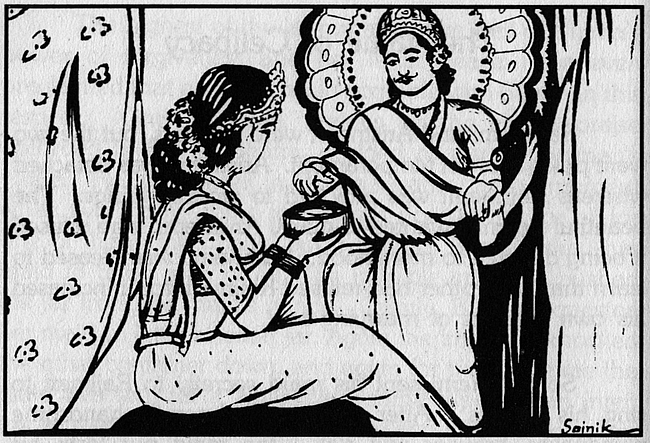 In the same way as this drink was vomited by me, I was abandoned as if vomited by your elder brother.
Rathnemi was startled. Rajimati's behaviour irri­tated him. He barked angrily, "Rajimati, to ask such a thing is to insult a noble man like me! Do you regard me as a dog or a crow that you think I would drink the vomit.
| | |
| --- | --- |
| Rajimati: | I' m just testing your love. |
| Rathnemi: | Is this the proper way to test it? There are many other methods. |
| Raji: | If you had just drunk it at my command, I will know that you truly love me. After all, this is the same liquid that you brought for me. I swallowed it but vomited it before it reached my stomach. |
| Rath: | It makes no difference. After all, it is vomit. |
| Raji: | Why is it so difficult for it to be drunk by the person who wants to marry me? |
| Rath: | What in the world does marriage has to do with vomiting? |
| Raji: | In the same way as this drink was vomited by me, I was abandoned as if vomited by your elder brother. Rathnemi! When you thought of marrying me, you should have considered that you were really wishing to marry your elder brother's wife. You weren't thinking about anything but beauty. It would've been better for you to renounce worldly pleasures and enjoy inner peace. |
Rajimati's words awakened his conscience. He was ashamed. He replied with sorrow: " I apologize for my mistake and will not repeat it in future. I hereby renounce worldly affairs like my brother. Now I shall go."
Soon after, Aristnemi was formally initiated as a monk. Under severe penance Aristnemi attained kevalgyana and established a new tirth. Rajimati, who had, though not without initial opposition from her parents, remained single, was then initiated into the Order of a nun with her many companions.
After initiation Rajimati wanted to hear a sermon Aristnemi was giving on a mountain named Girnaar. Rajimati in a group of nuns began to ascend the mountain. Suddenly, the sky was overcast with clouds and a severe storm arose. Rajimati became separated from the group and was left wet and shivering.
As the storm calmed and the sky cleared a bit, Rajimati could see a cave ahead. She entered it and attempted to dry her clothes. In the same cave Rathnemi was serving penance. Because of the darkness inside the cave, she could not see him but he could see her. Upon seeing her, Rathnemi could not control his passion and thought how fortunate it would be to get Rajimati in his arms.
When Rajimati realized another person's presence in the cave, she quickly dressed herself and demanded to know who the person was.
"I am Rathnemi who loves you. It is a solitary place and the golden opportunity has arrived. Let us not lose it."
Rajimati, having recognized the voice, was greatly annoyed. She rebuked him, "You are a monk. Your ideals are high. You are serving penance. Why are you talking like a person who is tempted by carnal desires? Think, who you are and who I am."
Rathnemi explained, "Although I am a monk, I am still restless to have you. My only desire is to have you. Penance and spiritual practice lose their importance in your presence, Rajimati."
| | |
| --- | --- |
| Raji: | You should be firm on your vows. Do you remember your vows? |
| Rath: | Yes of course I do, but who can see us here? |
| Raji: | Ask your own soul. Would you not be committing a sin secretly? |
| Rath: | If you don't want us to do it secretly, we can get married and later on in old age become monk and nun. |
| Raji: | Why didn't you drink that liquid you brought for me? |
| Rath: | Because it was a vomit. |
| Raji: | Would you drink your own vomit? |
| Rath: | How can this be? No one drinks a vomit. Why are you talking again and again about vomit? |
| Raji: | You left sensual desires behind when you were initiated and now you want to get them back. Did you put any condition at that time? You are the grandson of Andhakvrishni and the younger brother of Aristnemi. One born in such a noble family would immolate himself rather than accept the vomit. You should stick to your vows and try to keep your ideas pure. |
Rathnemi, moved by Rajimati's heartfelt words, realized his mistake and again became engrossed in spiritual practices. Rajimati went to Aristnemi, listened to his sermon, undertook severe austerities and attained emancipation at the end.