Prince Ardrak of Persia and Prince Abhaya of Rajgriha developed a friendship through the exchange of letters and presents. One day Ardrak decided to meet his friend Abhaya. Ardrak requested his father to let him undertake a journey to Rajgriha. His father refused on the grounds that the journey was too difficult.
Ardrak, however, was restless to go to Rajgriha. He hit upon a plan and leaving his 500 attendants (who were accompanying him on a trip elsewhere) in a jungle, proceeded further alone. At last he reached a town named Laxmipur and became a monk in the heat of intense vairagya. As a monk, he continued his ramblings and reached the town of Basantpur. He stood in the posture of kaayotsarg in a temple there.
At that time, Dhanshree, the daughter of a rich townsperson, was playing there with her friends. She saw Muni Ardrak engrossed in meditation and mentally decided to make him her husband. Dhanshree returned home and Ardrak went elsewhere.
When Dhanshree was of marriageable age, she said to her father, "I will marry the same monk as I have decided long ago." The father told her, "How can we locate a monk whom we don't know and who is quite unfamiliar with us? How would it be possible for us to give you to him in marriage?"
Dhanshree did not budge an inch from her decision.
When the problem of recognising the muni arose, she simply said, "I will recognise him." Her father made arrangements to find him and Dhanshree began distribut­ing alms to monks and nuns daily. Finally, when Muni Ardrak reached there, Dhanshree recognised him and informed her father, who soon came there and pleaded to the monk, "O holy monk! The life of my daughter depends upon you. Please accept her as your bride or else she will languish to death. You will be held responsible for the death of a girl and for this you may run into difficulties."
The innocent muni got entangled in the net of her father's wishes agreed marriage. Ardrak and Dhanshree were married amidst great pomp and show and began to live together thereafter.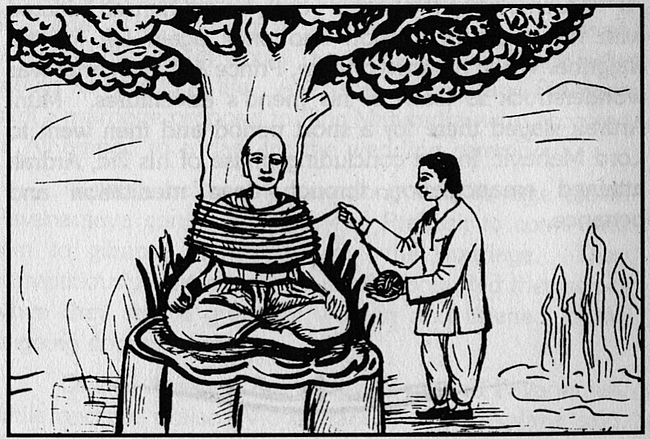 Ardrak saw that his son had encircled his body with the thread twelve times.
After some years, Dhanshree gave birth to a son. When the son grew up, Ardrak again decided to renounce the household. When Dhanshree knew his intention, she became sad but knew Ardrak was firm in his decision. Seeing his mother's tearful eye, her son asked her, "Why are you weeping?" Dhanshree replied, "Your father is leaving both of us to live the life of a monk."
The son said, "How can my father go? I shall tie him so that he cannot go away." The son got up and tied his father with cotton thread.
Ardrak saw that his son had encircled his body with the thread twelve times. He was greatly moved by the affection of his son and decided to remain a householder for twelve more years.
Completing the twelve years, he got himself initiated with his wife's permission and once again left for the Rajgriha. When he arrived there, Prince Abhayakumar was wonderstruck'to learn of his friend's adventures. Muni Ardrak stayed there for a short period and then went to Lord Mahavir. In the concluding phase of his life, Ardrak attained emancipation through deep meditation and penance.