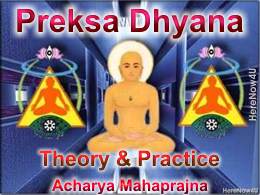 Here the word modesty is used as an antonym of arrogance or haughtiness. It does not imply meekness or shyness but is a positive virtue of being gentle, kind and non-violent (not rough) in one's behaviour.
The technique is the same as above except that the colour is green.
Substitute "Centre of Peace." in 4.

"My virtue of modesty is becoming stronger."
"My arrogance and rashness are diminishing." in 5.
7. Contemplate on the high moral value of this virtue on the following lines:
I should behave with gentleness towards people and things.
I shall cultivate humbleness towards truth, i.e., 'whatever I say or do is Truth' is arrogance and I should be mentally free from it.
I should refrain from being arrogant about my wealth, learning.
Thanks-giving to express gratitude and supporting benevolent actions are essential features for a successful carrier.
Saying 'sorry' for a lapse and begging pardon to improve behaviour, are means to attain greatness.
I will observe all the rules of proper behaviour.