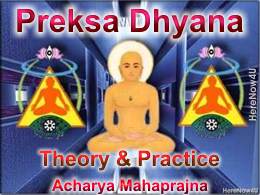 Earlier, it was stated that urges and impulses, passions and emotions are all endocrine expressions. There are forces subtler than the endocrines as the endocrines are subtler than the physique. These forces are primal drives emanating from the microbody (karma sarira), which is intimately united with the psyche. Lesya is the agency, which transforms the imperceptible micro-vibrations of the primal drives into perceptible forces, which produce appropriate conditions in the neuroendocrine sys­tem, thus acting as a liaison between the spiritual self and the physical self of a living organism.
The integrated action of the endocrine system and the nervous system produces hormones and neurohormones which not only generate feelings but also com­mand appropriate action that satisfied the need of the urge. We either progress or retrogress depending on whether we control and subdue our primal drives or succumb to them. The process is of subduing the forces, which countermand them by conscious reasoning. It is the authority of the spiritual self, which com­mands the reasoning mind to produce the counter- vibrations. The vibrations of waves resulting from the primal drives are malevolent lesyas whereas the counter- vibrations produced by the authority of the self are benevolent lesyas.
When one is under the influence of the evil trinity of krsna, nila and kapota, the force of the instinctive drives is so powerful that the reasoning mind surrenders to it On the other hand, with the conversion of lesyas, the rational mind is able to countermand the insistence of the carnal desires.
The spiritual progress will depend upon the degree of trans­formation of the malevolent trinity into the benevolent one. Without actual transformation, there will be no progress. This is not merely a speculation, but the basis of a real experience. And to bring about the desired transformation, perception of psychic colour - lesya-dhyana has proved to be a practical means of transformation.