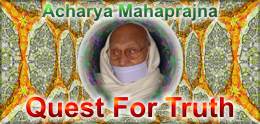 Man is the maker of his own joys and sorrows.
He is the maker of his own destiny.

The king is not God, he is not an incarnation of God.
He is a man. Do not make him God, just call him an endowed man.

Sacred texts are man's creations.
First man then texts. No text is equal to God.

The world is a combination of permanent matter and of interactive matter.
It is not a creation of any supreme being.

This world is a combination of six elements which are:



| | | |
| --- | --- | --- |
| 1. | Dharma | Motion |
| 2. | Adharma | Rest |
| 3. | Aakash | Cosmos |
| 4. | Kal | Time |
| 5. | Pudgal | Substance |
| 6. | Jiva | Being |



Man evolves or degenerates because of his own deeds.

In this treatise Mahavira has explained the elements of


being (jiva),
non-being (ajiva),
merit (punya),
sin (papa),
influx of karma(aashrav),
inhibition of karma (samvar)
cessation of karma (nirjara),
bondage (bandh),
salvation (moksha).


Man is not a puppet in the hands of fate or karma.
Fate does not make man, man himself decides his fate. He can change his destiny through hard work.